The Mafia And His Angel (Tainted Hearts Book 1) by Lylah James
Author:Lylah James [James, Lylah] , Date: August 22, 2017 ,Views: 4896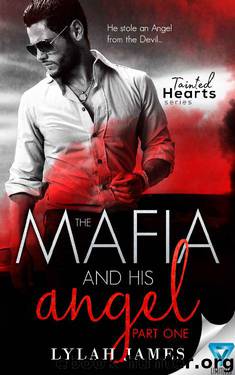 Author:Lylah James [James, Lylah]
Language: eng
Format: epub
Publisher: Limitless Publishing LLC
Published: 2017-07-31T16:00:00+00:00



Chapter 28
Ayla
After playing the first song, I couldn't help myself, so I didn't stop. Instead, I played another. One of my favorite songs, called I Won't Give Up. I used to play that every day.
As the song flowed around me, I felt myself singing to the melody. My voice was a quiet whisper, soft even to my ears. My racing heart slowed to a soothing beat.
After so long, I felt at peace and strangely hopeful.
The piano had always been my escape. When life failed me, my piano never did. It always gave me the sanctuary I needed. It always brought me the peace I was desperate for. And I was grateful I could feel that way again.
The second song ended and I played another one, hoping Alessio wouldn't tell me to stop. But when I didn't hear him, I continued to play. This time I played A Thousand Years.
As my fingers flowed on the keys and the third song came to an end, I slowly opened my eyes, instantly meeting Alessio's gaze. His stare was intense, unflinching, and he looked deep in thought, and maybe a little lost.
My hands were still resting on the piano as we stared at each other. The smile on my face dissipated as nervousness filled my body.
As long as I was playing, I didn't care what happened around me. Nothing mattered. But now, looking at Alessio, his eyes as intense as always, I grew anxious.
But though his stares were intense, they were warm. Something I never saw in him before.
When he didn't move or say anything, I cleared my throat. At the sudden sound, his eyes widened and he looked away. He raked his bloody fingers through his hair.
I winced at the sight and got up and stood in front of the piano. From that position, Alessio wasn't far from me, only a few feet away.
I could see his bruised face clearly and winced again. His cheeks were red and quickly turning into a slight purple shade. There was a cut on his eyebrow and dried blood covered his lips.
"You can leave," Alessio said in a hard voice. Flinching at his sudden change of tone, I took a step back and hit the piano. My hands played with the hem of my dress in nervousness.
He was doing it again. From warm to cold in seconds.
"You should clean your wounds so they don't get infected," I said. Keeping my eyes on him, I watched for his reaction.
He didn't give me any. Instead he glared at the wall to his side, his jaw locked tight together.
My heart started to gallop again as worry filled me. Maybe I had overstepped my limits. I shouldn't have played the piano. I shouldn't have even been there.
As I continued to fidget with my dress, I bit on my lips as my hands grew colder.
"I said leave!" Alessio growled.
My eyes widened and I scurried away from the piano. At the door, my steps faltered and I slowly looked over my shoulder. He had the brown glass bottle in his hand and he was staring at it, his other fist clenched tight.
Download


Copyright Disclaimer:
This site does not store any files on its server. We only index and link to content provided by other sites. Please contact the content providers to delete copyright contents if any and email us, we'll remove relevant links or contents immediately.