Luke (A Cocky Cage Fighter Novel Book 8) by Lane Hart
Author:Lane Hart [Hart, Lane] , Date: May 21, 2017 ,Views: 4917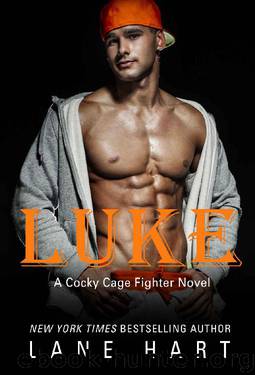 Author:Lane Hart [Hart, Lane]
Language: eng
Format: epub
Published: 2017-04-08T05:00:00+00:00



Chapter Twenty-Two
Luke
Over the next two weeks, Megan and Lennox and I all get into a comfortable routine. So far, my son doesn't know that every night I sleep on his sofa. Meg and I pretend like I'm just coming over for breakfast each morning after I get up and shower in the guest bathroom when I hear her alarm go off.
I really like just being a part of Lennox's everyday life, experiencing all the small things. The kid has to be the messiest eater to ever walk the earth, because he stains his clothes nearly every meal. And he's so grumpy in the mornings waking up with his bedhead that it's downright adorable. But before he goes out the door to daycare, he smiles up at me and gives me a big bear hug with a kiss on my cheek. It's the best part of my day.
The daily routine unfortunately fuels my anger at my own father and Megan for not letting me be a part of his life sooner and thinking I wasn't capable of taking care of my responsibility.
Most nights, after Lennox goes to bed, Meg still gets on her knees for me; but since the night I made her get naked and masturbate while sucking me off, she's refused to get undressed or touch herself again. Honestly, I'm not sure why she even wants to keep unselfishly pleasuring me while I refuse to lay a hand on her. Well, not a hand other than the one that grips her hair. I don't even ask her to blow me anymore, but I never turn her down. Most nights she just pulls me into her bedroom without a word and gets me off, despite the fact that she knows I'll up and leave as soon as I finish.
I'm starting to feel like a bastard for using her.
But then I look at Lennox and see everything she took from me and tell myself she deserves it.
And maybe it's also a little fucked up, but I have to admit that I like being an asshole for the first time in my life. I've always been the good son, staying out of trouble and walking on eggshells to avoid hurting my parents or disappointing them. Even before Eli died, I felt like I never measured up to him. He was the perfect son, and while all parents say they don't have favorites, he was clearly my parents' pride and joy. My father loved the fact that Eli was going to go to school to be a plastic surgeon like him. They even talked about him joining Dad's practice after his residency. And my mom…well, Eli could do no wrong in her eyes. She had practically planned his and Meg's wedding, down to the number of kids they would have (at least three) and where they would get married (the church where they met, and her dad was a pastor, of course.) In fact, I'm surprised Eli hadn't popped the question before his accident.
Download


Copyright Disclaimer:
This site does not store any files on its server. We only index and link to content provided by other sites. Please contact the content providers to delete copyright contents if any and email us, we'll remove relevant links or contents immediately.