American King (New Camelot #3) by Sierra Simone
Author:Sierra Simone [Simone, Sierra] , Date: November 3, 2017 ,Views: 12395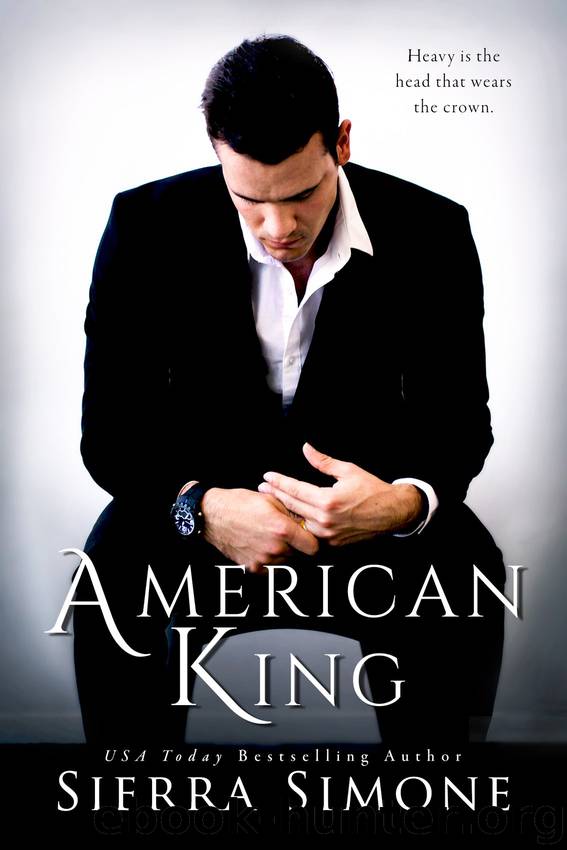 Author:Sierra Simone [Simone, Sierra]
Language: eng
Format: epub, mobi
Published: 2017-10-30T18:30:00+00:00



All that night, I couldn't shake the feeling that something was wrong. Or maybe wrong isn't the word I mean, but that something was different. Something was heavy in the air, and it wasn't the silver moon or that strange brand of wet summer coolness that crowded against the windows of the cab. I chalked it up to the night before and my aborted attempt at meeting someone new. I chalked it up to frustration over politics and heartache over a boy I kissed once.
It wasn't until much, much later that I realized it was the same feeling I'd had when I'd fucked Morgan and when I'd put my boot on Embry's wrist. The same feeling I'd had when I pulled the sword from the stone. A feeling like something deep inside of me was alchemically changing, a feeling like this moment marked some sort of fresh stroke on my canvas that could never be painted over.
No, at the time I just assumed it was smothered libido and impatience with Merlin's scene. An assumption that was reinforced inside the party itself, which was full of the requisite political types, all being as obtuse and oblivious to the real effects of their actions as ever, and even though I knew Merlin had brought me here to make introductions and schmooze, I couldn't bear it. I couldn't bear another second with these people, I was stifled by their ignorance and pointlessness and callous disregard for actual human life, and it was so easy to find an empty room that led to an empty patio and just breathe for a moment. Just stare at the fresh, silver moon and wonder what Embry was doing at this very moment.
Staring at the same moon, thinking of me?
Ha, went a bitter voice in my mind. Right.
Feminine laughter stirred me from my thoughts, and then a male voice that was sing-songy with persuasion and—ah yes, an Italian accent—and I heard the two of them crowd into the room I'd just walked through, the unmistakable sounds of kissing and fondling echoing out onto the small patio where I was now trapped, hedged in by a stone railing and a pretty garden.
Ah, fuck.
I edged my head around the corner, just to verify that I couldn't sneak past them, and alas, yes. The library was too cluttered with furniture to make any path other than the main one, which was currently occupied by one of the diplomats I'd been attempting to escape and a girl who looked young enough to be his daughter. She was very pretty though—sleek red hair and long limbs set off by a bright blue dress—and she certainly didn't seem to mind the diplomat's attention, so I suppose I couldn't fault him for anything other than inconvenience.
With a sigh, I turned back to the patio and resigned myself to staring at the moon some more. Maybe when these two finished, Merlin would be ready to go—or at least, be neutral to my leaving early. There was no point in me being here.
Download


Copyright Disclaimer:
This site does not store any files on its server. We only index and link to content provided by other sites. Please contact the content providers to delete copyright contents if any and email us, we'll remove relevant links or contents immediately.