Scorched - Book Four - The Surrender Series by Anne Melody
Author:Anne, Melody [Anne, Melody] , Date: May 30, 2014 ,Views: 10348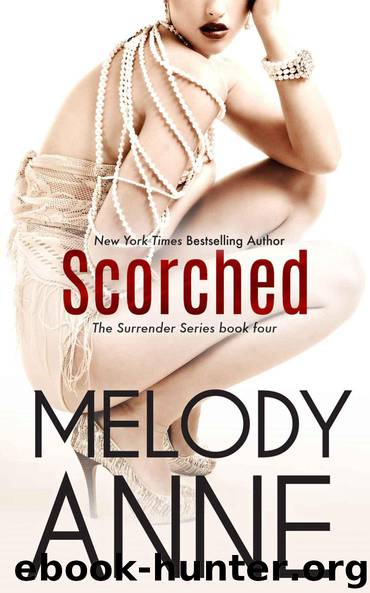 Author:Anne, Melody [Anne, Melody]
Language: eng
Format: epub, azw3, mobi
Publisher: Gossamer Publishing
Published: 2013-11-10T18:30:00+00:00



CHAPTER THIRTY
MS. PALAZZO, TEAR down that wall. That, it seemed, was the unexpected result of Lia's talk therapy.
As her eyes locked with Shane's, she wondered what her next move was going to be. Ari and Rachel had finally dragged the entire story from her, and, no, it didn't help close her off to Shane's attractions. Instead, it speedily increased her need for him — releasing the floodgates of passion.
While she'd talked about him, she realized that in keeping him at bay, she was mainly trying to protect herself. Maybe because she'd wanted him for so long without him wanting her that she'd built some sort of fortress around her heart.
Whatever the reason, she could no longer keep that solid wall from crumbling down around her feet.
He was the man she loved; maybe it would be best if she just gave in to both his and her own desires. Maybe it was time she grew up and took what was being offered to her. She didn't need to look for all the reasons they couldn't be together. It was time to appreciate what she had right in front of her.
Surely she wouldn't lose herself that way. Her life would gain another person.
But she couldn't keep from dwelling on her unhappy fears. What if she gave him her entire heart, and the next day he shipped out, only to be taken away from her forever? What would that do to her in the long run?
Could she ever pick herself up off the ground after such devastation? And yet, would it really make a difference at this point? If he were to go away and never return, wouldn't her heart shatter, even now?
Yes, yes, it would.
Whether she wanted to love him or not, she already did. And if nothing she did at this point would change the way she felt, why not just jump in with both feet?
"Hello, beautiful. Are you avoiding me?" Shane had walked right into her personal bubble and she was glad to see him, her heart instantly picking up speed.
"I was. I decided just now, though, that I want to take you off into a closet, unbuckle your belt and show you how very much I want you inside me."
Shane's eyes grew wide, then narrowed sharply. He looked around to make sure no one was listening.
Lia found that she enjoyed shocking Shane. She enjoyed making him blush, making him shuffle nervously from foot to foot. To make this big man uncomfortable seemed to be a mission of hers in life. It was not only amusing, it was also very much an aphrodisiac, at least when she looked down and noticed the effect she'd had on the fit of his trousers.
He wanted her, even after three days of nonstop lovemaking.
Lia was going to give both of them pleasure, and she was going to do it right now. She took his hand and started pulling him from the vast ballroom.
"Lia, we can't do that here," Shane said, trying to put on the brakes as she reached the door.
Download


Copyright Disclaimer:
This site does not store any files on its server. We only index and link to content provided by other sites. Please contact the content providers to delete copyright contents if any and email us, we'll remove relevant links or contents immediately.