Fifty Shades Freed by E L James
Author:E L James , Date: March 25, 2014 ,Views: 12121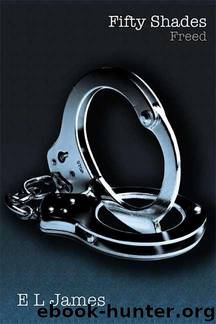 Author:E L James
Language: eng
Format: mobi, epub, azw3
Publisher: ePub Bud (www.epubbud.com)
Published: 2012-01-08T00:00:00+00:00



E L JAMES
"Sure." Once again I'm overwhelmed by the wealth. How much did this place cost . . . ? And I have contributed nothing to it. Briefly I'm transported back to the first time Christian took me to Escala . . . I was overwhelmed then. You got used to it, my subconscious hisses at me. Christian frowns but takes my hand, leading me through the various rooms. The state-of-the-art kitchen is all pale marble countertops and black cupboards. There's an impressive wine cellar, and an expansive den downstairs, complete with large plasma screen, soft couches . . . and a billiard table. I gape at it, and blush when Christian catches me.
"Fancy a game?" he asks, a wicked gleam in his eye. I shake my head, and his brow furrows once more. Taking my hand again, he leads me up to the first floor. There are four bedrooms upstairs, each with an en suite bathroom.
The master suite is something else—the bed is huge, bigger than the bed at home, and faces an enormous picture window looking out over Aspen and toward the verdant mountains.
"That's Ajax Mountain . . . or Aspen Mountain, if you like,"
Christian says, eyeing me warily. He's standing in the doorway, his thumbs hooked through the belt loops on his black jeans. I nod.
"You're very quiet," he murmurs.
"It's lovely, Christian." And suddenly I'm aching to be back at Escala.
In five long strides he's standing in front of me, reaching up and tugging at my chin, releasing my lower lip from the grip of my teeth.
"What is it?" he asks, his eyes searching mine.
"You're very rich."
"Yes."
"Sometimes, it just takes me by surprise, how wealthy you are."
"We are."
"We are," I mutter automatically.
"Don't stress about this, Ana, please. It's just a house."
"And what did Gia do here, exactly?"
"Gia?" He raises his eyebrows in surprise.
"Yes. She remodeled this place?"
"She did. She put the den in downstairs." He rakes his hand through his hair and frowns at me. "Why are we talking about Gia?"
259 | P a g e
Fifty Shades Freed
"Did you know she had a fling with Elliot?"
Christian gazes at me for a moment, gray eyes unreadable. "Elliot's fucked most of Seattle, Ana."
I gasp.
"Mainly women, I understand," Christian jokes. I think he's amused by my expression.
"No!"
Christian nods. "It's none of my business." He holds his palms up.
"I don't think Kate knows."
"I'm not sure he broadcasts that information. Kate seems to be holding her own."
I'm shocked. Sweet, unassuming, blond, blue-eyed Elliot? I stare in disbelief.
Christian tilts his head to one side, scrutinizing me. "This can't just be about Gia or Elliot's promiscuity."
"I know. I'm sorry. After all that's happened this week, it's just . . ."
I shrug, feeling tearful all of a sudden. Christian seems to sag with relief. Pulling me into his arms, he holds me tightly, his nose in my hair.
"I know. I'm sorry, too. Let's relax and enjoy ourselves, okay? You can stay here and read, watch god-awful TV, shop, come hiking—
fishing even. Whatever you want to do.
Download


Copyright Disclaimer:
This site does not store any files on its server. We only index and link to content provided by other sites. Please contact the content providers to delete copyright contents if any and email us, we'll remove relevant links or contents immediately.