Ken Follett - World without end by Ken Follett
Author:Ken Follett [Follett, Ken] , Date: November 23, 2017 ,Views: 3780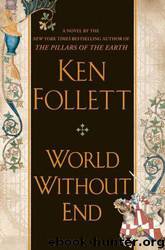 Author:Ken Follett [Follett, Ken]
Language: eng
Format: epub
Tags: Great Britain, Fiction, Historical, History, General, Suspense, Historical - General, Historical fiction, Fiction - Historical, England, Romance, Ken - Prose & Criticism, Great Britain - History - 14th century, Black death, Follett, English, Black Death - England, 14th century
ISBN: 9780525950073
Publisher: Dutton
Published: 2007-10-09T21:07:32+00:00



44
Gilbert Hereford was tried before the ecclesiastical court, found guilty and sentenced, by Prior Godwyn, to an appropriate punishment for those who robbed churches: he would be flayed alive. His skin would be cut off him, while he was fully conscious, and he would bleed to death.
On the day of the flaying, Godwyn had his weekly meeting with Mother Cecilia. Their deputies would also attend: sub-prior Philemon and sub-prioress Natalie. Waiting in the hall of the prior's house for the nuns to arrive, Godwyn said to Philemon: "We must try to persuade them to build a new treasury. We can no longer keep our valuables in a box in the library."
Philemon said thoughtfully: "Would it be a shared building?"
"It would have to be. We can't afford to pay for it."
Godwyn thought regretfully of the ambitions he had once had, as a young man, to reform the monastery's finances and make it rich again. This had not happened, and he
Download


Copyright Disclaimer:
This site does not store any files on its server. We only index and link to content provided by other sites. Please contact the content providers to delete copyright contents if any and email us, we'll remove relevant links or contents immediately.