IMAGINES: Celebrity Encounters Starring You by Anna Todd & Leigh Ansell & Rachel Aukes & Doeneseya Bates & Scarlett Drake & A. Evansley & Kevin Fanning & Ariana Godoy & Debra Goelz & Bella Higgin & Blair Holden & Kora Huddles & Annelie Lange & E. Latimer & Bryony Leah & Jordan Lynde & Laiza Millan & Peyton Novak & C.M. Peters & Michelle Jo & Dmitri Ragano & Elizabeth A. Seibert & Rebecca Sky & Karim Soliman & Kate J. Squires & Steffanie Tan & Kassandra Tate & Katarina E. Tonks & Marcella Uva & Tango Walker & Bel Watson & Jen Wilde & Ashley Winters
Author:Anna Todd & Leigh Ansell & Rachel Aukes & Doeneseya Bates & Scarlett Drake & A. Evansley & Kevin Fanning & Ariana Godoy & Debra Goelz & Bella Higgin & Blair Holden & Kora Huddles & Annelie Lange & E. Latimer & Bryony Leah & Jordan Lynde & Laiza Millan & Peyton Novak & C.M. Peters & Michelle Jo & Dmitri Ragano & Elizabeth A. Seibert & Rebecca Sky & Karim Soliman & Kate J. Squires & Steffanie Tan & Kassandra Tate & Katarina E. Tonks & Marcella Uva & Tango Walker & Bel Watson & Jen Wilde & Ashley Winters , Date: May 14, 2016 ,Views: 76391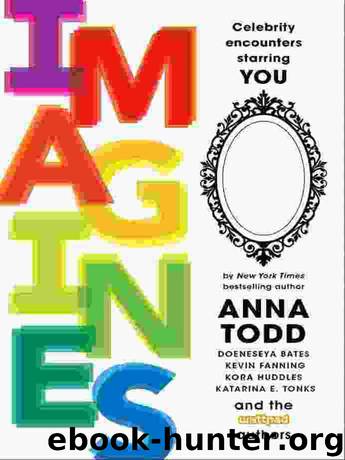 Author:Anna Todd & Leigh Ansell & Rachel Aukes & Doeneseya Bates & Scarlett Drake & A. Evansley & Kevin Fanning & Ariana Godoy & Debra Goelz & Bella Higgin & Blair Holden & Kora Huddles & Annelie Lange & E. Latimer & Bryony Leah & Jordan Lynde & Laiza Millan & Peyton Novak & C.M. Peters & Michelle Jo & Dmitri Ragano & Elizabeth A. Seibert & Rebecca Sky & Karim Soliman & Kate J. Squires & Steffanie Tan & Kassandra Tate & Katarina E. Tonks & Marcella Uva & Tango Walker & Bel Watson & Jen Wilde & Ashley Winters
Language: eng
Format: azw3
Tags: Anthologies, Young Adult, Contemporary
Publisher: Gallery Books
Published: 2016-04-25T23:00:00+00:00



THE GIRLS ABANDON YOU for the other line, waving good-bye with eyebrows raised in one last Told you so. The girl in front of you in line has giant black wings, complete with detailed drawings of feathers, and while you can't help but admire the craftsmanship, an edge of the cardboard juts out and pokes your arm whenever she moves.
Finally you make it to the front, and a cheerful-looking blond woman stares at you expectantly.
"I—are there any Jared and Jensen photo ops left?"
Her smile slips, and she shakes her head. "Oh, honey, those were gone ages ago. Here's a list of what's left."
Disappointment makes you sag, shoulders slumping. If you can't see Jared and Jensen, then what's the point?
But there's a line behind you, so you run a finger down the paper, which is slightly crumpled and stained with coffee on one side. All the good ops have been filled. You've waited in line though, and you're here now, so you jab one finger toward the end of the list, some guy who was in one episode during season ten.
"Is he free?"
"Just one spot left." The blond woman smiles as you hand over the money, and she slides the ticket across the table. "There you are, dear. Have fun!"
You give her a weak smile and turn away, ticket clutched to your chest.
The photo op isn't for another three hours, so you walk around the conference tables to kill time. There's a huge amount of merchandise. T-shirts with Jared's and Jensen's faces on them, angel-wing necklaces, replicas of Baby's license plate. People crowd around the tables, laughing and talking, admiring one another's costumes. It seems like everyone is dressed up, some in elaborate angel and demon costumes, some in T-shirts with the show's logo on them.
It's weird to feel out of place for not wearing a costume.
You're not used to being on your own, and it kind of makes you want to sit in the corner and stare at your phone. But that's not why you came. You came to talk about the show. You came to fangirl, dammit!
You could talk to these people. They're all here for the same reason. They all love the same thing. That girl right there, the girl with long dark hair and glasses. She's wearing a Castiel T-shirt. It would be easy to walk up and start a conversation, wouldn't it? Make a new friend?
Clutching the ticket hard, you take a breath, about to say something . . . to plunge recklessly into this making-friends thing.
The girl in the Castiel T-shirt turns abruptly. "I already have the wing necklace. I want the amulet, but they're out."
Her friend shrugs and they move to the next table.
Your shoulders slump, and you turn back toward the stairs, shoving the ticket into the pocket of your jeans. You'd rather fight off a Wendigo than make small talk, anyway.
Of course, you'll be forced to socialize in a week when your new job starts. No doubt there'll be "office politics," gossip, and that one mean girl who decides she hates you.
Download


Copyright Disclaimer:
This site does not store any files on its server. We only index and link to content provided by other sites. Please contact the content providers to delete copyright contents if any and email us, we'll remove relevant links or contents immediately.