In Control (The City Series) by Crystal Serowka
Author:Crystal Serowka [Serowka, Crystal] , Date: March 25, 2014 ,Views: 34991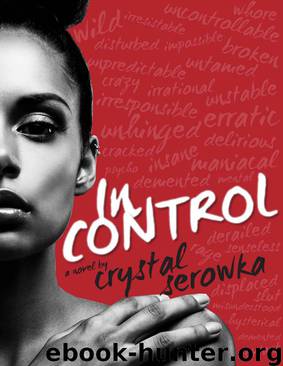 Author:Crystal Serowka [Serowka, Crystal]
Language: eng
Format: epub
Published: 2013-12-21T00:00:00+00:00



For three weeks, I'd been telling the Hendersons that I'd been tutoring younger kids at the library. The lie was able to get me out of the house by 7:30 each morning, and I wouldn't return until six. Now, my morning meals consisted of breakfast foods I'd never thought I'd be able to try—eggs, pancakes drizzled with sweet maple syrup, crispy bacon and hash browns so good, I could have them for every meal. Eating with the Hennings every morning was like something out of a fairytale. They talked to each other at the table—about everything—without yelling. Porter and I sat side by side, and sometimes he'd reach under the table and hold my hand.
This morning, as I was sitting in my seat, as Porter called it, Mr. Henning was telling us all a funny story. As I listened, my gaze fell on each of their faces. Porter's mother was laughing along, patting Mr. Henning's back as he told his story. Porter focused all of his attention on his father, the look of adoration in his eyes so evident. For once, I felt like I was a part of something. Rather than ignoring me, which is what I was used to, Porter's family engaged me into their conversations each day. They always asked me my opinion on things I had no clue about, like what I thought of the latest blockbuster or how I felt about Broadway musicals, but I tried giving my opinion without giving away the fact that my life experience was limited. This family actually liked having me around.
"And then I said, well if you'd like, when I remove your father's yucky liver, we can keep it in a jar for your nightstand!" Mr. Henning recounted, laughing.
"Christopher, I'm sure the kids don't need to hear that!" Mrs. Henning scolded.
Porter continued laughing along with his father, while I pictured what a yucky liver must look like. I imagined it looking like a piece of overcooked steak, and I must have displayed my repulsion because Mr. Henning asked me why my face suddenly turned green.
"Did I upset you, Kingsley?" he asked with a look of concern.
"Oh," I said, shaking my head. "No, sorry. I was actually just imagining a piece of overcooked meat and it sort of grossed me out."
My comment almost made Mrs. Henning spit her orange juice out. She slapped her hand over her mouth almost immediately, her eyes glossing over from restraint. Porter leaned in toward me, laughing harder after seeing the display his mother had made.
"Oh wow, Kingsley. You have quite an imagination!" she exclaimed, wiping off her mouth with the napkin from her lap.
"All right, time for me to head off." Mr. Henning stood from his chair, placing his napkin on the table. "Pretty soon, you two will be back at school. Only a little over a month until you're freshmen!"
Porter and I looked at each other and grinned. His smile showed that he was excited. Mine showed that I was afraid. Just the thought of entering high school made me feel sick to my stomach.
Download


Copyright Disclaimer:
This site does not store any files on its server. We only index and link to content provided by other sites. Please contact the content providers to delete copyright contents if any and email us, we'll remove relevant links or contents immediately.