Pimp by Iceberg Slim
Author:Iceberg Slim [Slim, Iceberg] , Date: March 25, 2014 ,Views: 12270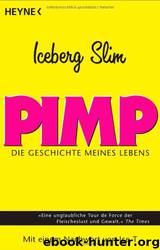 Author:Iceberg Slim [Slim, Iceberg]
Language: deu
Format: epub, mobi
ISBN: 9783453640092
Amazon: 3453640098
Publisher: Heyne Taschenbuch
Published: 2005-08-02T00:00:00+00:00



I'd suck a thousand clappy pricks and swim through liquid shit.
They got green puke between their rotten toes and snot runs from their funky noses.
I hope all square bitches become syphilitic wrecks. I hope they fall through their own ass-holes and break their mother-fucking necks."
It was the first time I'd heard it. It was the first time for the crowd, too. They roared and begged him to do it again. He looked toward the hand-painted Chinese screen.
All eyes turned to Top and Sweet coming into the room. An old black stud wearing a white silk patch over his right eye trailed behind them. Peaches followed him. He looked like a vulture decked out in a gray mohair vine. Peaches stood before the white velour couch and bared her fangs.
The three pimps sitting on it scattered off it like quail under a double-barreled shotgun. They thumped their rear ends to the carpet. Sweet, Top, and Peaches sat on the couch.
I sat on a satin pillow in the corner near the glass door. I watched the show. I saw Patch Eye go and sit behind the bar. Everybody was in a big half-circle around the couch. It was like the couch was a stage, and Sweet the star.
Sweet said, "Well how did you silly bastards like the fight? Did the Nigger murder that peckerwood or did his black ass turn shit yellow?"
A Southern white whore with a wide face and a sultry voice like Bankhead's drawled, "Mistah Jones, Ahm happy to repoat thet the Niggah run the white stud back intu his mammy's ass in thu fust round."
Everybody laughed except Sweet. He was crashing together his mitts. I wondered what madness bubbled in his skull as he stared at her. A high-ass yellow broad flicked life back into the phonograph. "Gloomy Sunday," the suicide's favorite, dirged through the room. She stared at me as she came away.
Sweet said, "All right you freakish pigs. Patch Eye's got outfits and bags of poison. You got the go sign to croak yourselves."
They started rising from the satin pillows and velour ottomans. They clustered around Patch Eye at the bar.
The high-ass yellow broad came to me. She stooped in front of me. I saw black tracks on her inner thighs. The inside of her gaping cat was beef-steak red. She had a shiv slash on the right side of her face. It was a livid gully from her cheekbone to the corner of her twisted mouth. Smallpox craters covered her face. I caught the glint of a pearl-handled switch-blade in her bosom. Her gray eyes were whirling in her skull. She was high.
I was careful. I grinned. Sweet was digging us. He was shaking his head in disgust. I wondered if he thought I oughta slug her in the jib and maybe take that shiv in the gut.
She said, "Let me see that pretty dick, handsome."
I said, "I don't show my swipe to strange bitches. I got a whore to pamper my swipe."
She said, "Nigger, you ain't heard of me? I'm Red Cora" from Detroit.
Download


Copyright Disclaimer:
This site does not store any files on its server. We only index and link to content provided by other sites. Please contact the content providers to delete copyright contents if any and email us, we'll remove relevant links or contents immediately.