Cecilia; Or, Memoirs of an Heiress — Volume 3 by Fanny Burney
Author:Fanny Burney [Burney, Fanny] , Date: March 26, 2014 ,Views: 30532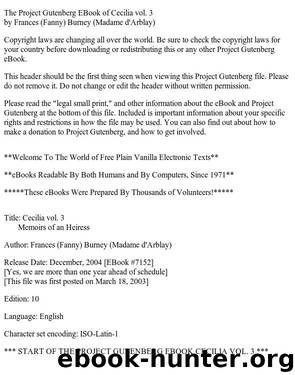 Author:Fanny Burney [Burney, Fanny]
Language: eng
Format: epub, mobi
Tags: Unread
Publisher: Project Gutenberg
Published: 2004-11-30T16:00:00+00:00



CHAPTER vii.
A CALM.
Cecilia took leave over night of the family, as she would not stay their rising in the morning: Mr Monckton, though certain not to sleep when she was going, forbearing to mark his solicitude by quitting his apartment at any unusual hour. Lady Margaret parted from her with her accustomed ungraciousness, and Miss Bennet, because in her presence, in a manner scarcely less displeasing.
The next morning, with only her servants, the moment it was light, she set out. Her journey was without incident or interruption, and she went immediately to the house of Mrs Bayley, where she had settled to board till her own was finished.
Mrs Bayley was a mere good sort of woman, who lived decently well with her servants, and tolerably well with her neighbours, upon a small annuity, which made her easy and comfortable, though by no means superior to such an addition to her little income as an occasional boarder might produce.
Here Cecilia continued a full month: which time had no other employment than what she voluntarily gave to herself by active deeds of benevolence.
At Christmas, to the no little joy of the neighbourhood, she took possession of her own house, which was situated about three miles from Bury.
The better sort of people were happy to see her thus settled amongst them, and the poorer, who by what they already had received, knew well what they still might expect, regarded the day in which she fixed herself in her mansion, as a day to themselves of prosperity and triumph.
As she was no longer, as hitherto, repairing to a temporary habitation, which at pleasure she might quit, and to which, at a certain period, she could have no possible claim, but to a house which was her own for ever, or, at least, could solely by her own choice be transferred, she determined, as much as was in her power, in quitting her desultory dwellings, to empty her mind of the transactions which had passed in them, and upon entering a house where she was permanently to reside, to make the expulsion of her past sorrows, the basis upon which to establish her future serenity.
And this, though a work of pain and difficulty, was not impracticable; her sensibility, indeed, was keen, and she had suffered from it the utmost torture; but her feelings were not more powerful than her understanding was strong, and her fortitude was equal to her trials. Her calamities had saddened, but not weakened her mind, and the words of Delvile in speaking of his mother occurred to her now with all the conviction of experience, that "evils inevitable are always best supported, because known to be past amendment, and felt to give defiance to struggling." [Footnote: See Vol. ii. p. 317.]
A plan by which so great a revolution was to be wrought in her mind, was not to be effected by any sudden effort of magnanimity, but by a regular and even tenour of courage mingled with prudence. Nothing, therefore, appeared
Download


Copyright Disclaimer:
This site does not store any files on its server. We only index and link to content provided by other sites. Please contact the content providers to delete copyright contents if any and email us, we'll remove relevant links or contents immediately.