The 101 Dalmatians by Dodie Smith
Author:Dodie Smith , Date: December 18, 2017 ,Views: 2664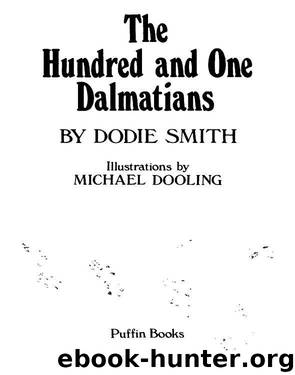 Author:Dodie Smith
Language: eng
Format: epub
Publisher: Penguin USA, Inc.
Published: 2010-03-01T05:00:00+00:00



In the Enemys Camp
OH, how Pongo needed that drink!
"And now stroll down to the pond with me," said the Colonel, gripping the handle of a little tin bucket in his teeth. "You won't feel like trying to sleep any more just at present."
Pongo felt he would never be able to sleep again.
"I blame myself for letting you in for this shock," said the Colonel as they went out into the early morning sunlight. "Because you can't blame the Lieutenant. She's not a trained observer. When she told me the place was 'seething with Dalmatian puppies' I naturally thought she meant your puppies only. After all, fifteen puppies can do quite a bit of seething. It was only yesterday, after I'd made the Folly my headquarters and could see over the wall, that I found out the true facts. Of course I sent the news over yesterday's Twilight Barking but couldn't reach you."
"How many puppies are there?" asked Pongo.
"Can't tell, exactly, because they never keep still. But I'd say—counting yours—getting on for a hundred."
"A hundred?"
They had reached the pond. "Have another drink," suggested the Colonel.
Pongo gulped down some more water, then stared hopelessly at the Sheepdog.
"Colonel, what am I going to do?"
"Will your lady wife want just to rescue her own puppies?"
"She may at first," said Pongo. "But not when she realizes it would mean leaving all the others to certain death."
"Anyway, your pups aren't old enough for the journey," said the Colonel. "I suppose you know that?"
Pongo did know it. His plan had been to let his puppies stay at Hell Hall until they were a little bigger, while he and Missis kept watch over them, ready to rescue them if danger threatened. He told the Colonel this.
"And that's exactly what you must do," said the Colonel.
"But what about the other puppies?"
"I shall spread the news of them throughout England. Other parents may come to the rescue."
"I doubt it, after all this time," said Pongo.
"If the worst comes to the worst, would your pets give them a home?"
Pongo couldn't imagine the Dearlys refusing to help any dog. But getting on for a hundred! Still, the drawing room was very large.
"I don't believe they'd turn them away," he said. "But, Colonel, I could never get the whole lot of them to London."
"Not as they are, of course. Every dog jack of them has to be trained. They must learn to march, to obey orders—I may teach the bigger ones how to forage."
"I wouldn't mind learning that myself," said Pongo.
"Splendid! Now how about trying your mouth at carrying this pail? That's a trick you ought to learn. No, no—hold your head farther out. Then the pail won't bang into your chest. Excellent!"
Pongo found that he could carry the bucket of water quite easily. His spirits were rising now. With this wonderful old Colonel to help him, he would rescue every puppy. He set the bucket down in the Folly.
"You're looking better," said the Colonel. "You may be able to sleep now. There's nothing more you and your lady can do until it's dark.
Download


Copyright Disclaimer:
This site does not store any files on its server. We only index and link to content provided by other sites. Please contact the content providers to delete copyright contents if any and email us, we'll remove relevant links or contents immediately.