The miraculous journey of Edward Tulane by Kate DiCamillo
Author:Kate DiCamillo [DiCamillo, Kate] , Date: March 3, 2015 ,Views: 3362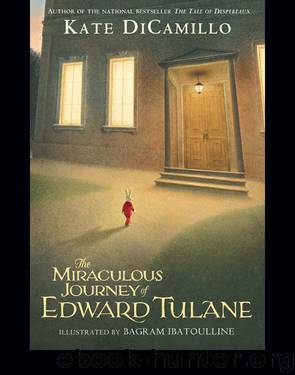 Author:Kate DiCamillo [DiCamillo, Kate]
Language: eng
Format: epub
Tags: Voyages and travels, Rabbits, Social Issues, Love & Romance, Animals, Listening, Action & Adventure, Adventure and adventurers, Juvenile Fiction, General, Family & Relationships, Children's stories, Toys, Love, Emotions & Feelings, Fairy Tales & Folklore, Fiction, Toys; Dolls; Puppets
ISBN: 9780763625894
Publisher: Candlewick Press
Published: 2006-02-14T00:00:00+00:00



IN THE MORNING, THE SUN ROSE and the cricket song gave way to bird song and an old woman came walking down the dirt road and tripped right over Edward.
"Hmph," she said. She pushed at Edward with her fishing pole.
"Looks like a rabbit," she said. She put down her basket and bent and stared at Edward. "Only he ain't real."
She stood back up. "Hmph," she said again. She rubbed her back. "What I say is, there's a use for everything and everything has its use. That's what I say."
Edward didn't care what she said. The terrible ache he had felt the night before had gone away and had been replaced with a different feeling, one of hollowness and despair.
Pick me up or don't pick me up, the rabbit thought. It makes no difference to me.
The old lady picked him up.
She bent him double and put him in her basket, which smelled of weeds and fish, and then she kept walking, swinging the basket and singing, "Nobody knows the troubles I seen."
Edward, in spite of himself, listened.
I've seen troubles, too, he thought. You bet I have. And apparently they aren't over yet.
Edward was right. His troubles were not over.
The old woman found a use for him.
She hung him from a pole in her vegetable garden. She nailed his velvet ears to the wooden pole and spread his arms out as if he were flying and attached his paws to the pole by wrapping pieces of wire around them. In addition to Edward, pie tins hung from the pole. They clinked and clanked and shone in the morning sun.
"Ain't a doubt in my mind that you can scare them off," the old lady said.
Scare who off? Edward wondered.
Birds, he soon discovered.
Crows. They came flying at him, cawing and screeching, wheeling over his head, diving at his ears.
"Go on, Clyde," said the woman. She clapped her hands. "You got to act ferocious."
Clyde? Edward felt a weariness so intense wash over him that he thought he might actually be able to sigh aloud. Would the world never tire of calling him by the wrong name?
The old woman clapped her hands again. "Get to work, Clyde," she said. "Scare them birds off." And then she walked away from him, out of the garden and toward her small house.
Download


Copyright Disclaimer:
This site does not store any files on its server. We only index and link to content provided by other sites. Please contact the content providers to delete copyright contents if any and email us, we'll remove relevant links or contents immediately.