Erebos by Ursula Poznanski
Author:Ursula Poznanski , Date: October 1, 2014 ,Views: 2864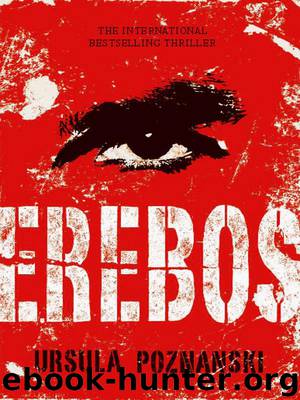 Author:Ursula Poznanski
Language: eng
Format: mobi, epub
Tags: JUV000000
ISBN: 9781742697215
Publisher: Allen & Unwin Pty Ltd
Published: 2012-02-19T23:00:00+00:00



CHAPTER 16
'Nick? Nick! For goodness sake, are you okay? Wake up!'
Opening his eyelids was hard enough, but nothing in comparison with the effort it cost him to drag himself upright. Something crashed down onto the desk – the keyboard, which had got stuck to Nick's cheek. He glanced hastily at the screen. Completely black – luckily.
'Did you sleep here? Sitting up?'
'Erm . . . maybe. Probably.'
His mouth felt dry and his temples were throbbing.
'Don't tell me you're turning into a computer junkie, are you? What in the world were you doing all that time?' Chopping the legs off giant spiders.
'Chatting. It was fun and I forgot about the time. I'm sorry, Mum. It won't happen again.'
His mother pushed a lock of hair off his forehead.
'Can you even go to school in this state? You must be dead tired. Why would you do such a thing, hmm? I thought I could rely on you. You need your sleep, you know how tiring school is —' 'It's okay, I'm fine,' Nick interrupted her. 'I'll have a cold shower, then I'll be fighting fit.'
The offer to wag school tacit in his mother's flood of words had a lot going for it, but unfortunately today was the wrong day for it. The spiders had inflicted so much damage on Sarius that in the end he had needed the messenger's help again, and had accepted some orders. So gaming instead of school wasn't an option. Apart from that he was brimming with curiosity. He wanted to see Emily and Eric. He wanted to know what was happening. Whether anything was happening.
Nick gazed at the bathroom mirror, checking out the deep imprints the keyboard had left on his face. When had he fallen asleep? He could still remember his orders and how he'd searched with burning eyes for a scrap of paper to write the messenger's requirements down. He must have nodded off after that.
He showered hot, cold and then hot again, making himself dizzy. The coffee aroma from the kitchen was mingling with the smell of shower gel; the combination nearly turned Nick's stomach. It could well be that staying home was the best option. But free days were precious. He folded up the scrap of paper on which he'd written down his orders and put it in his wallet. Then he stowed his camera in his schoolbag. He didn't understand the point of the instructions any better today than last night. But it didn't matter. Afterwards he would be an Eight.
The memory of his wish stayed with him the whole way to school. Although it was nonsense. In a few days the messenger would wave him over and ask him to wish for something different. Nick needed to be prepared for that – he was going to think up something good. Something sensible. Exactly. So there was no need for him to feel guilty.
On that thought he turned into the street leading to school, where it was unusually quiet. As if someone had used a remote control and turned the volume down.
Download


Copyright Disclaimer:
This site does not store any files on its server. We only index and link to content provided by other sites. Please contact the content providers to delete copyright contents if any and email us, we'll remove relevant links or contents immediately.