07 Hunters of the Dusk by Darren Shan
Author:Darren Shan , Date: June 11, 2015 ,Views: 3038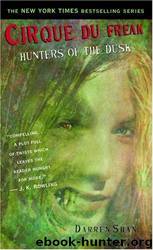 Author:Darren Shan
Language: eng
Format: mobi, epub
ISBN: 9780316602112
Publisher: Little, Brown and Company
Published: 2005-05-11T07:00:00+00:00



I didn't get much sleep that day, thinking about what Vancha had said. I doubt if any of us slept much, except Evanna, who snored even louder than the Prince.
Vancha was right. If we failed, the one who survived would have the worst time of all. He'd have to watch the vampires perish, and bear the burden of blame. If we were to fail, death along the way was the best any of us could hope for.
Our spirits had lifted when we rose that evening. We were no longer afraid of what lay ahead, and instead of talking negatively, we discussed our route. "Mr Tiny said to follow our hearts," Mr Crepsley reminded us. "He said fate would lead us if we placed ourselves in its hands."
"You don't think we should try tracking down the Vampaneze Lord?" Vancha asked.
"Our people have spent six years seeking him, without success," Mr Crepsley said. "Of course we must keep our eyes peeled, but otherwise I believe we should go about our business as if he did not exist."
"I don't like it," Vancha grumbled. "Fate's a cruel mistress. What if destiny' doesn't lead us to him? Do you want to report back in a year and say, 'Sorry, we didn't run into the blighter, bad luck, what?'"
"Mr Tiny said to follow our hearts," Mr Crepsley repeated stubbornly. Vancha threw his hands into the air. "OK — we'll do it your way. But you two will have to pick the course — as many women have attested, I'm a boundless cad who doesn't have a heart." Mr Crepsley smiled thinly. "Darren? Where do you want to go?" Page 55
I started to say I didn't care, then stopped as an image flashed through my thoughts — a picture of a snake-boy sticking an extra long tongue up his nose. "I'd like to see how Evra's doing," I said. Mr Crepsley nodded approvingly. "Good. Just last night I was wondering what my old friend Hibernius Tall was up to. Harkat?"
"Sounds good to me," Harkat agreed.
"So be it." Facing Vancha, Mr Crepsley said in as imperious a tone as he could muster, "Sire, we head for the Cirque Du Freak."
And so our direction was decided and the dice of destiny were cast.
CHAPTER SIXTEEN
MR CREPSLEY was able to tap into Mr Tall's thoughts and pinpoint the position of the Cirque Du Freak. The travelling circus was relatively near, and it would take us only three weeks to link up with it if we forced the pace.
After a week, we hit civilization again. As we passed a small town one night, I asked Mr Crepsley why we didn't hop on a bus or train, which would get us to the Cirque Du Freak much quicker. "Vancha does not approve of human modes of transport," he said. "He has never been in a car or on a train."
" Never!" I asked the barefooted Prince.
"I wouldn't even spit on a car," he said. "Awful things. The shape, the noise, the smell." He shivered.
Download


Copyright Disclaimer:
This site does not store any files on its server. We only index and link to content provided by other sites. Please contact the content providers to delete copyright contents if any and email us, we'll remove relevant links or contents immediately.