Caraval Series, Book 1 by Stephanie Garber
Author:Stephanie Garber , Date: March 23, 2017 ,Views: 8545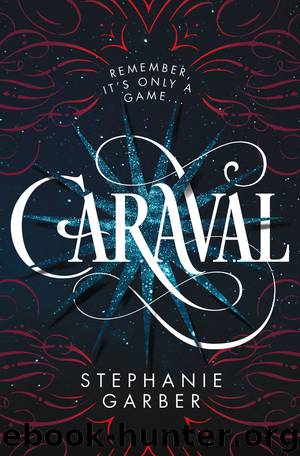 Author:Stephanie Garber
Language: eng
Format: epub
Publisher: Flatiron Books



20
Scarlett would remember only one thing clearly about her journey from the dress shop. She would not remember her limbs feeling as light as feathers, her bones turning to dust, or either of her attempts to lie down in the boats. She would not remember being prodded out of those same boats, or dropping her cherry-blossom gown. Though she would recall the young man who picked it up, and then took her arm to help her walk the rest of the way back to La Serpiente.
The words uselessly pretty came to mind, though as she looked up at her attractive companion, his face no longer looked quite so pretty. Hard lines and harsh angles highlighted dark eyes shadowed by even darker hair.
This person did not like her. She not only knew it, she could feel it in the rough way he handled her. The way he held on to her arm as she attempted to pull away.
"Let me go!" she tried to yell. But her voice was feeble, and the passersby who might have heard were too busy scurrying to their own snake holes. A quarter of an hour was all that remained until the sun rose and erased the magic of the night.
"If I let you go, you'll just crawl into another boat." Dante dragged her through La Serpiente's rounded back door. Noise from the tavern circled around them. Mugs of cider clinking against glass tables. Snorts of amusement mixed with grunts of satisfaction, and groaned tales of things unsatisfying.
Only a sharp-looking gentleman with an eye patch and a crimson cravat noticed her being dragged onto a set of stairs, where the air darkened and the noise quieted. Later Scarlett would remember him watching, but just then her main concern was escaping from Dante.
"Please," Scarlett begged. "I need to get to my room."
"First we need to talk." Dante cornered her in the stairwell, long legs and tattooed arms boxing her against the wall.
"If this is about the other day … I'm sorry." It took what felt like all of Scarlett's strength to force the words out coherently. "I didn't mean to trick you. I shouldn't have lied to you."
"This isn't about your lies," Dante said. "I know people lie in this game. Yesterday—" He broke off, sounding as if it were a struggle to keep his tone even. "I was upset because I thought you were different. This game, it changes people."
"I know," Scarlett said, "that's why I need to get to my room."
"I can't let you do that." Dante's voice hardened, and for a rare moment of terrifying clarity, Scarlett could see he'd fallen apart even more than the last time she'd seen him. His eyes were lined in dark shadows as if he hadn't slept in days. "My sister is missing; you have to help me find her. I know your sister is missing too, and I don't think it's just a part of this game."
No. Scarlett couldn't be hearing this now. Tella's disappearance was simply another magic trick.
Download


Copyright Disclaimer:
This site does not store any files on its server. We only index and link to content provided by other sites. Please contact the content providers to delete copyright contents if any and email us, we'll remove relevant links or contents immediately.