Year One by Nora Roberts
Author:Nora Roberts , Date: December 5, 2017 ,Views: 8188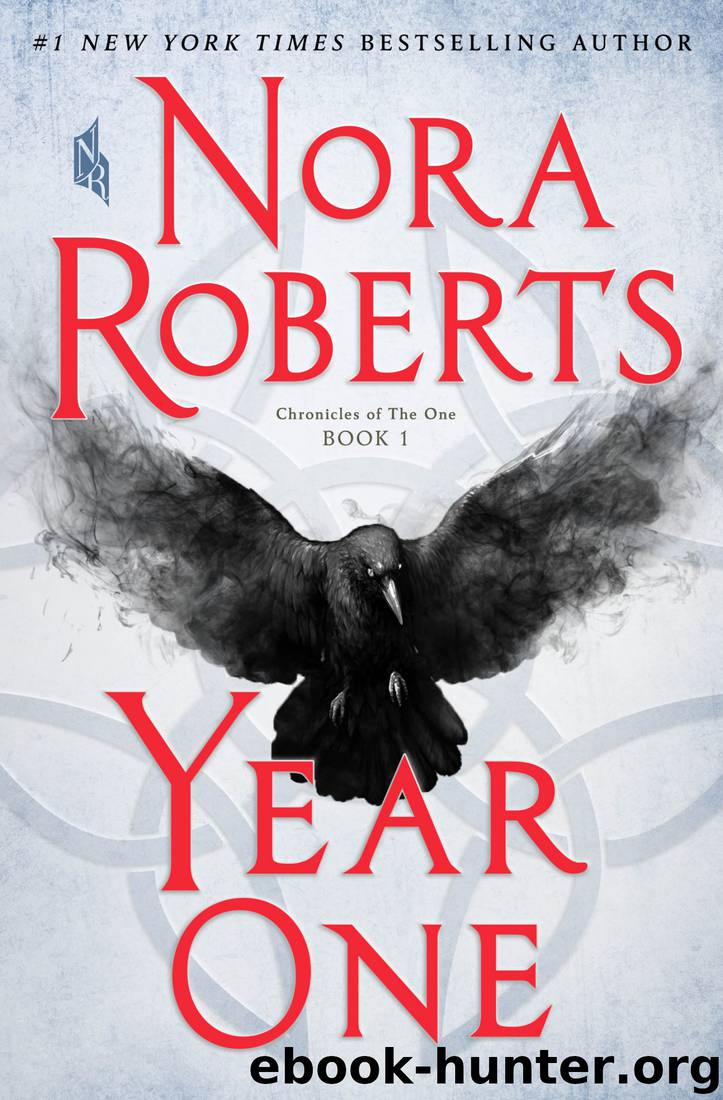 Author:Nora Roberts
Language: eng
Format: epub, mobi, azw3
Publisher: St. Martin's Press



CHAPTER FOURTEEN
The trip down the winding mountain road proved hairy in spots, and had Eddie wishing for the days of snowplows and road salt. Better, for the days of sitting out a couple feet of snow in his crap apartment listening to some Kid Cudi, maybe some Pink Floyd while he toked his brains out and munched on Cheetos.
But all in all, he preferred the slipping, sliding trip down to creeping past a few dead-looking houses before what he guessed served as the supply center for hikers, vacationers, and maybe a couple scoops of locals.
He spotted a pretty good-size grocery store with a sign showing a bear on one side, a big-ass buck on the other, with STANLEY'S PRODUCE AND PHARMACY in between.
The pharmacy part meant maybe he could do Lana that favor, help her find out if she had a bun in the oven.
Big wow if she did. He cast a sidelong look at Max before scoping out the rest of the half-assed town.
A log-cabin type of place stood directly across the two-lane road. Stanley's Outfitters, and beside that a skinny, glass-fronted place. Stanley's Liquors.
Beer, baby! Please let there be beer!
"I guess this Stanley dude's the big man around here. Gonna run over to the liquor store before we head back, see if there's any beer left."
"Wouldn't hurt my feelings."
"Pop the top of a cold one thanks to good old Stanley. But hey, there's something different. Ma Bea's Burgers and More. Maybe she's Stanley's ma."
Max eased to a stop in front of the market. Sat a moment, studied the lay of the land.
"We're the first tire tracks through since the last storm, but I see some footprints, so somebody's here, or somebody's been here in the last couple days."
"The quiet creeps me, man. I sure as hell don't want to get my ass shot again." Eddie lifted his chin toward the market. "I guess that's first stop. Food before beer."
"Food, beer, propane." Max got out, slung the rifle he'd brought with him over his shoulder. "Let's see what's left in the market."
The door, unlocked, opened smoothly. Two neat lines of carts stood across from four checkout stations. Metal handbaskets were stacked in a pyramid, as if waiting patiently for shoppers who just needed a few things. Max kept a hand on the gun at his hip as he scanned the store.
Floors gleamed clean. He could spot plenty of empty shelves down aisles, but what remained appeared to be in neat and orderly groups.
"Weird." Beside him, Eddie fidgeted. "It's like they're open for business, right, and expecting the truck to roll up so they can restock the shelves. Like, you know, normal."
"Stanley runs a tight ship."
At that Eddie snickered. "I guess we oughta do some shopping." So saying, he pulled out a cart with a rattle. "I'm gonna get some stuff for Joe. Bet they got Milk-Bones."
"Take the left, I'll take the right. We'll work toward the center."
Weird covered it, Max thought as he passed the produce section. Not a single leaf of lettuce remained, but the tubs sparkled clean.
Download


Copyright Disclaimer:
This site does not store any files on its server. We only index and link to content provided by other sites. Please contact the content providers to delete copyright contents if any and email us, we'll remove relevant links or contents immediately.