The Last by Hanna Jameson
Author:Hanna Jameson , Date: January 25, 2019 ,Views: 8995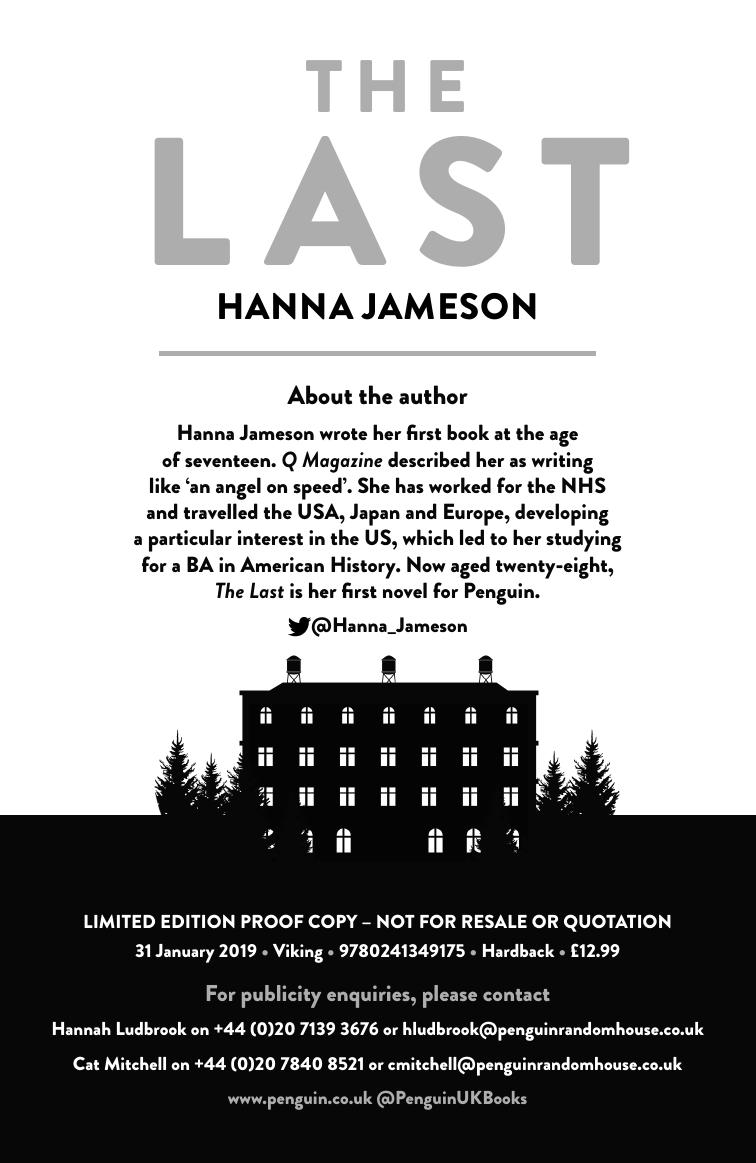 Author:Hanna Jameson
Language: eng
Format: epub, pdf
ISBN: 9780241984000
Publisher: Penguin Books Ltd
Published: 2019-01-23T18:30:00+00:00



Day Sixty-four (3)
Yuka and I searched for the location of the royal suite for most of the morning, paused for breakfast, and resumed until mid-afternoon, when I took the opportunity to ask her a few questions, and then she left to take over childcare.
We hadn't found any rooms which seemed like they could be a royal suite, but that didn't matter. I had my lead. It was unexplainable, almost impossible to follow up, but it was something.
We also searched the staff quarters for the suitcases but didn't see any sign of them. Sasha was a little hostile to the idea of having his room searched, so it mostly involved us walking in, scanning the obvious places for any sign of the suitcases, and then hastily leaving.
The idea of repeating this process with every room in the hotel left me lethargic, but I knew I couldn't stop. The overheard conversation between Dylan and Sophia was enough to tell me that I was on the right track, or at least a track.
In the restaurant, Sophia allowed us two mugs of hot water and Yuka and I shared a green teabag while other people came and went with their lunch rations. I didn't think Yuka had done it. But she might have seen something on day one, so I questioned her anyway.
'How did you end up staying at the hotel?'
'We had a booking in the city, but we were double booked and canceled. They paid for us to move.'
'So you weren't meant to be here?'
'No.'
I paused, and the odd feeling that had been gathering weight in my chest intensified. The feeling that we were all guided here by a larger, unseen force.
'What did you do before?'
'I was a project manager for American Express. It's where I met Haru.'
'And this was in Japan?'
'No.' She stared at me. 'In Frankfurt.'
'Oh, right. Sorry.' I wrote something down to distract myself from the embarrassing misstep. 'So your children are bilingual?'
'Yes, they also speak German.'
'Do you remember much about the day everything happened?'
She went quiet, swirled the teabag around her mug exactly three times before removing it, and placed it on a saucer.
'We packed and went to reception, where we waited for instructions. They were telling us to wait, remember.'
'Yeah, I remember. I think.'
'Sometimes I think my memory of it is wrong.'
'I get that.'
She warmed her hands around the mug. 'Then we decided it was safer not to leave. We could not take the children out there with no planes, no cars, no way of getting home. We do not even know if Frankfurt is still there. So we stayed.'
I sat back and took a sip of green tea. She was deciding not to tell me something. I could see it in her face.
'That's all you remember?'
'It's not easy to remember a day like that.'
She had a point there.
I checked my notes so far and asked, 'Do you remember seeing Dylan or Sophia at any point?'
'No.'
'Do you remember seeing Nathan, Mia or Sasha?'
'I remember seeing Mia and Sasha holding each other's hands in the bar, watching the TV in there.
Download


Copyright Disclaimer:
This site does not store any files on its server. We only index and link to content provided by other sites. Please contact the content providers to delete copyright contents if any and email us, we'll remove relevant links or contents immediately.