Icehenge by Kim Stanley Robinson
Author:Kim Stanley Robinson [Robinson, Kim Stanley] , Date: August 2, 2017 ,Views: 52407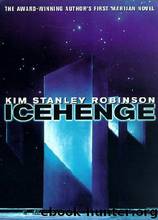 Author:Kim Stanley Robinson [Robinson, Kim Stanley]
Language: eng
Format: epub, mobi
Publisher: Orb Books



The memory's the bone; imagination, flesh; The animating spirit? — is a forlorn wish.
Emma the only refuge, Emma the only anchor. How many nights I read her, and was re-oriented to the real.
The codes sent to me unlocked other classified information, and eventually I found a long list of files never programmed, which sent me running over to the Physical Annex. The reference was to Davydov, and the file collection was in a room I had familiarized myself with. I began searching the cabinets that stood in rows in the room. One bottom drawer was jammed with folders and pages; it looked like someone had ransacked it, or dropped the drawer and then replaced the contents in a hurry. Near the back I found the folder Davydov — Confidential. Inside it was a sheaf of papers.
Soviet fleet papers. Expedition to the Jovian moons in 2182-8. Record of an assault on a superior officer. Permissions for a leave on Earth.
Then in 2211 he was brought before a court-martial, but he was found innocent. Written under Charge was sedition — see Space Security, Valenski. Nothing more.
The next document was a fifteen-page application for a lobbying association and club to be called the Mars Starship Association. "Ah ha!" I shouted. The application was dated 2208. At that time any meeting of over ten people had to be approved by the police, so the questions were detailed. Davydov was named copresident of the club along with Borg. All potential members were identified. Many I had seen in Emma's journal. Under Purpose of Association was typed, "To advocate the use of a certain percentage of mining profits for the construction of a long-range ship and the financing of a transplutonian expedition."
So I had found it. Independent confirmation of the Mars Starship Association, right there in a cabinet drawer open to anyone's inspection, in a cabinet I had casually glanced through several months before. That was archival cataloguing for you. I called Sandor to the room and got him to witness the find, and we had it copied. "You're building quite a case," he said. I wrote it up, Chronicle of Martian History published it. No comment.
Oh, I suppose there was some comment, I got calls from Nakayaina and Lebedyan and some others. But the theory popular that week was that Pluto was an erratic caught by the sun, and that the megalith was ancient, perhaps fifteen billion years old — nearly as old as the universe itself. Naturally this created a stir and there were calls for a new expedition to Pluto to investigate the megalith and test this theory.
Download


Copyright Disclaimer:
This site does not store any files on its server. We only index and link to content provided by other sites. Please contact the content providers to delete copyright contents if any and email us, we'll remove relevant links or contents immediately.