The remains of the day by Kazuo Ishiguro
Author:Kazuo Ishiguro [Ishiguro, Kazuo] , Date: March 26, 2014 ,Views: 6970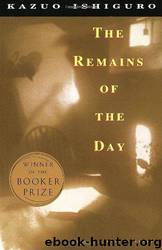 Author:Kazuo Ishiguro [Ishiguro, Kazuo]
Format: epub, mobi
Tags: Fiction, Unread
ISBN: 9780394573434
Publisher: Knopf
Published: 1989-09-22T23:00:00+00:00



Day Three - Morning
Taunton, Somerset
I LODGED last night in an inn named the Coach and Horses a little way outside the town of Taunton, Somerset. This being a thatch-roofed cottage by the roadside, it had looked a conspicuously attractive prospect from the Ford as I had approached in the last of the daylight. The landlord led me up a timber stairway to a small room, rather bare, but perfectly decent. When he inquired whether I had dined, I asked him to serve me with a sandwich in my room, which proved a perfectly satisfactory option as far as supper was concerned. But then as the evening drew on, I began to feel a little restless in my room, and in the end decided to descend to the bar below to try a little of the local cider.
There were five or six customers all gathered in a group around the bar - one guessed from their appearance they were agricultural people of one sort or another
- but otherwise the room was empty. Acquiring a tankard of cider from the landlord, I seated myself at a table a little way away, intending to relax a little and collect my thoughts concerning the day. It soon became clear, however, that these local people were perturbed by my presence, feeling something of a need to show hospitality. Whenever there was a break in their conversation, one or the other of them would steal a glance in my direction as though trying to find it in himself to approach me. Eventually one raised his voice and said to me:
"It seems you've let yourself in for a night upstairs here, sir." When I told him this was so, the speaker shook his head doubtfully and remarked:
"You won't get much of a sleep up there, sir. Not unless you're fond of the sound of old Bob" - he indicated the landlord - "banging away down here right the way into the night. And then you'll get woken by his missus shouting at him right from the crack of dawn."
Despite the landlord's protests, this caused loud laughter all round.
"Is that indeed so?" I said. And as I spoke, I was struck by the thought - the same thought as had struck me on numerous occasions of late in Mr Farraday's presence
- that some sort of witty retort was required "of me. Indeed, the local people were now observing a polite silence, awaiting my next remark. I thus searched my imagination and eventually declared:
"A local variation on the cock crow, no doubt." At first the silence continued, as though the local persons thought I intended to elaborate further. But then noticing the mirthful expression on my face, they broke into a laugh, though in a somewhat bemused fashion. With this, they returned to their previous conversation, and I exchanged no further words with them until exchanging good nights a little while later.
I had been rather pleased with my witticism when it had first come into my head, and I must confess I was slightly disappointed it had not been better received than it was.
Download


Copyright Disclaimer:
This site does not store any files on its server. We only index and link to content provided by other sites. Please contact the content providers to delete copyright contents if any and email us, we'll remove relevant links or contents immediately.