All the Missing Girls by Megan Miranda
Author:Megan Miranda [Miranda, Megan] , Date: July 2, 2016 ,Views: 11982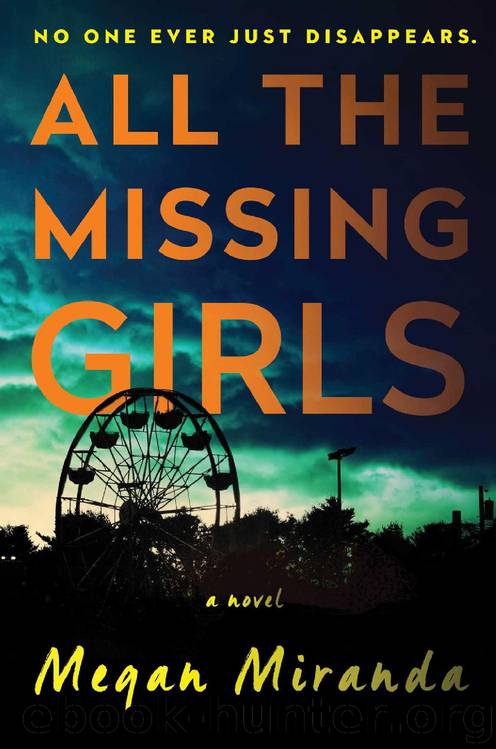 Author:Megan Miranda [Miranda, Megan]
Language: eng
Format: epub
ISBN: 9781501107962
Amazon: 1501107968
Barnesnoble: 1501107968
Publisher: Simon & Schuster
Published: 2016-06-28T05:00:00+00:00



* * *
I SLOUCHED AGAINST THE wall, cradling my phone to my chest.
This place messed with me. Made me forget myself. I called Everett, but his cell went to voicemail. I called the office and kept my voice practiced and steady as I talked to the secretary, Olivia, who'd become one of my closest friends. A tied-to-Everett friend but a friend.
"He's prepping witnesses," she said. "I'd love to chat, but this place is falling apart this week. Can you hear that?" And I could: the ringing phones in the background, the low hum of voices. She went on, "Jesus Christ, I need a girls' night so bad. When are you coming back? Shit. I gotta go. I'll tell him you called."
I stared at my phone, wondering whom to call to ground myself. The truth is, I'm not good at close friends. I'm great at casual, at meeting up after work and bringing lasagna to the potluck. I'm excellent at being friends with Everett's friends. But not at exchanging numbers and calling up just to talk.
I always leave people behind. Holiday greeting cards last one apartment, and then I move, no forwarding address. Emails go unanswered. Phone calls unreturned. It's a habit. It's easier. I'm the friend in the group they'll throw a going-away party for but never keep in touch with. I had ladder rungs to climb, debts to repay, a life to create.
And whom did I have after so many moves? Everett, for a year. My college roommate, Arden, but she was a doctor, and busy, and every decision she made was life-or-death, which made everything I said seem trivial. My thesis adviser, Marcus. I could call him, vent my issues in a normal way. Surface level. Not like this: My best friend disappeared when I was eighteen, and it's all coming back, and I'm losing my dad, and someone's been in this house. Maybe the cops, but maybe not.
They were the people you called with news: I met a guy. I'm engaged. I got a new job. To share the highs and the lows. But friends to call for the deep things, the things that live in the dark spaces of our hearts? Those people didn't exist for me any longer. Not since I'd left Cooley Ridge.
Download


Copyright Disclaimer:
This site does not store any files on its server. We only index and link to content provided by other sites. Please contact the content providers to delete copyright contents if any and email us, we'll remove relevant links or contents immediately.