The Secret History by Donna Tartt
Author:Donna Tartt [Tartt, Donna] , Date: March 25, 2014 ,Views: 15469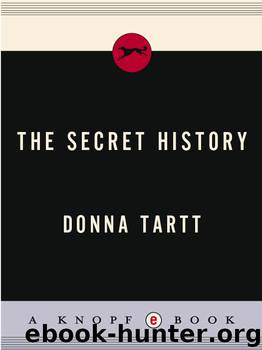 Author:Donna Tartt [Tartt, Donna]
Language: eng
Format: epub, mobi, azw3
ISBN: 978-0-307-76569-7
Publisher: Knopf Doubleday Publishing Group
Published: 2011-10-25T16:00:00+00:00



When we got back to the car it had not begun to snow, but already the woods shrank beneath the sky, hushed and waiting, as if they could sense the weight of the ice that would be on them by nightfall.
"Christ, look at this mud," said Francis as we bounced through yet another pothole, brown spray striking the window with a thick rataplan.
Henry shifted down into first.
Another pothole, one that rattled the teeth in my head. As we tried to come out of it the tires whined, kicking up fresh splatters of mud, and we fell back into it with a jolt. Henry swore, and put the car in reverse.
Francis rolled down his window and craned his head outside to see. "Oh, Jesus," I heard him say. "Stop the car. There's no way we're going to—"
"We're not stuck."
"Yes we are. You're making it worse. Christ, Henry. Stop the—"
"Shut up," Henry said.
The tires whined in the back. The twins, sitting on either side of me, turned to look out the rear window at the muddy spray. Abruptly, Henry shifted into first, and with a sudden leap that made my heart glad we were clear of the hole.
Francis slumped back in his seat. He was a cautious driver, and riding in the car with Henry, even in the most propitious of circumstances, made him nervous.
Download


Copyright Disclaimer:
This site does not store any files on its server. We only index and link to content provided by other sites. Please contact the content providers to delete copyright contents if any and email us, we'll remove relevant links or contents immediately.