Red by Erica Spindler
Author:Erica Spindler [Spindler, Erica] , Date: August 26, 2017 ,Views: 10796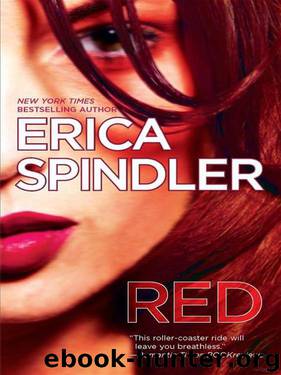 Author:Erica Spindler [Spindler, Erica]
Language: eng
Format: epub, mobi
Tags: Suspense, Romance, Fiction, Thrillers
ISBN: 9781459228276
Google: iZ4vzYFDN7gC
Publisher: Harlequin
Published: 2012-01-17T05:00:00+00:00



26
Done in pink and white and ruffles, the bedroom was as frilly as the top of a birthday cake. A little girl's dream room, complete with a canopy bed and white furniture decorated with tiny painted flowers, but too childish for a seventeen-year-old, especially one as worldly as Zoe Marie Tucker.
Her father had seen the room in a magazine, proclaimed it fit for a princess and had it re-created for her. That had been the year she turned six; by the time she turned eight, he was gone. Her life had changed dramatically with his leaving, but the bedroom had remained the same.
Zoe sat cross-legged on the gingham spread, naked but for her bra and panties, the photographer's business card in her hands. She studied it, eyebrows drawn together in thought.
Jack Gallagher. Fashion Photographer.
It was probably a gag. Probably a marketing ploy, a way to get a no-talent photographer a few clients. Or maybe it was a slick cover for a porno ring. At the thought of the girl from the mall, with her soft drawl and hesitant smile, being part of a porno ring, Zoe giggled. That would be like suspecting Mickey Mouse of child abuse.
Her gaze strayed to her nightstand and the picture of her and her father. She stared at their smiling images a moment, then dragged her gaze back to the business card. If Becky Lynn and this Jack Gallagher were for real…
Zoe's heart began to pound. The magazines were always printing stories about how some celebrity or other had gotten discovered in an elevator or drugstore or disco. Someday it could be her they were writing about. Hadn't she always thought so? Hadn't her daddy always told her she was the most beautiful, the most special girl in the world?
She stood and crossed to her dresser mirror. She gazed at her reflection, seeing herself at seven, her daddy crouched behind her, his arms around her middle. "Princess," he would say, "you're so beautiful, you should be on the cover of a magazine. You're the prettiest girl in the whole world."
Nobody had ever made her feel so loved, so pretty and special, the way her daddy had. He had petted and loved her, he had bought her bows for her hair, lacy dresses and shiny black shoes with pearl buttons.
She had loved him so much. Why had he left her? Zoe grasped the edge of the dresser, gripping so hard her knuckles turned white, thinking of the last time she had seen him. That morning had been like every other. He had helped her bathe and dress; she hadn't fought him the way she sometimes did. She hadn't cried or made him cry. Tears stung her eyes, and she battled them back. She had been a good girl.
She tightened her grip on the dresser's edge, her fingertips starting to tingle. His leaving was her mother's fault. Her mother had been jealous of the attention he had given his daughter; she had been jealous of how beautiful he thought his little princess was.
Download


Copyright Disclaimer:
This site does not store any files on its server. We only index and link to content provided by other sites. Please contact the content providers to delete copyright contents if any and email us, we'll remove relevant links or contents immediately.