Mindhunter: Inside the FBI's Elite Serial Crime Unit by John E. Douglas & Mark Olshaker
Author:John E. Douglas & Mark Olshaker [Douglas, John E. & Olshaker, Mark] , Date: March 26, 2014 ,Views: 6257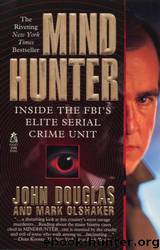 Author:John E. Douglas & Mark Olshaker [Douglas, John E. & Olshaker, Mark]
Language: eng
Format: epub
Tags: Sociology, History, Biography, Non-Fiction, Science, Psychology
ISBN: 9780671528904
Publisher: Pocket
Published: 1995-01-01T00:00:00+00:00



Chapter 11
Atlanta
In the winter of 1981, Atlanta was a city under siege.
It had begun quietly a year and a half earlier, almost unnoticed. Before it was over—if in fact it will ever be over—it had become one of the largest and perhaps one of the most publicized manhunts in American history, politicizing a town and polarizing a nation, every step of the investigation steeped in bitter controversy.
On July 28, 1979, police responded to a complaint of a foul odor in the woods off Niskey Lake Road and discovered the body of thirteen-year-old Alfred Evans. He'd been missing for three days. While examining the site, police discovered another body about fifty feet away—this one partially decomposed—belonging to fourteen-year-old Edward Smith, who had disappeared four days before Alfred. Both boys were black. The medical examiner determined that Alfred Evans had probably been strangled, while Edward Smith had definitely been shot with a .22-caliber weapon.
On November 8, the body of nine-year-old Yusef Bell was discovered in an abandoned school. He had been missing since late October and had also been strangled. Eight days later, fourteen-year-old Milton Harvey's body was found near Redwine Road and Desert Drive in the East Point section of Atlanta. He had been reported missing in early September, and as with Alfred Evans, no definite cause of death could be determined. Both of these children were also black. But there wasn't enough similar evidence to attach any particular significance. Unfortunately, in a city the size of Atlanta, children disappear all the time. Some of them are found dead.
On the morning of March 5, 1980, a twelve-year-old girl named Angel Lanier set out for school but never arrived. Five days later her body was found, bound and gagged with an electrical cord, on the side of a road. She was fully clothed, including her underwear, but another pair of panties had been stuffed in her mouth. Cause of death was determined to be ligature strangulation. The medical examiner found no evidence of sexual assault.
Eleven-year-old Jeffrey Mathis disappeared on March 12. At this point, the Atlanta Police Department still hadn't made anything out of six black children either missing or turning up dead. There were as many differences as similarities among the cases, and they hadn't seriously considered the possibility that some or all of them might be related.
But other people had. On April 15, Yusef Bell's mother, Camille, aligned with other parents of missing and slain black children and announced the formation of the Committee to Stop Children's Murders. They pleaded for official help and recognition of what they saw going on around them. This wasn't supposed to be happening in Atlanta, the cosmopolitan capital of the New South. This was a city on the move, the town supposedly "too busy to hate," which boasted a black mayor in Maynard Jackson and a black public safety commissioner in Lee Brown.
The horrors didn't stop. On May 19, fourteen-year-old Eric Middlebrook was found murdered about a quarter mile from his home. Death was caused by blunt-force trauma to the head.
Download


Copyright Disclaimer:
This site does not store any files on its server. We only index and link to content provided by other sites. Please contact the content providers to delete copyright contents if any and email us, we'll remove relevant links or contents immediately.