I'll Be Gone in the Dark by Michelle McNamara
Author:Michelle McNamara [Michelle McNamara] , Date: March 5, 2018 ,Views: 2202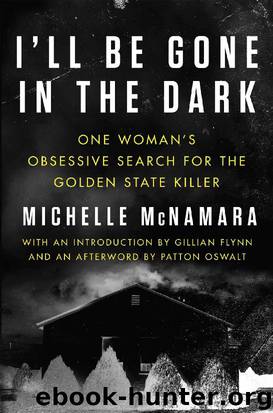 Author:Michelle McNamara [Michelle McNamara]
Language: eng
Format: epub, mobi
ISBN: 9780062319807
Publisher: Harper
Published: 2018-02-27T05:00:00+00:00



Some are flattered. A lot are mildly annoyed. They're in line at the pharmacy waiting for their heart medication. They're installing garboard drain plugs on their fishing boats. Your polite enthusiasm represents lost minutes of their day.
Crompton answered Holes's call as if he'd just been talking about the EAR that moment, had possibly been talking about the EAR for years, and this unexpected, welcome call was a natural continuation of an ongoing conversation in the Crompton household.
Crompton was born in Nova Scotia and looks like the kind of tall, lean, honest-faced rancher John Wayne would have trusted in one of his Westerns. He's got a slightly odd, breathless way of speaking; never hesitant, just brief, confident declarations that could use a little more air.
Holes wanted to know if Crompton remembered any old suspects who stood out and should be reexamined. He did, and unenthusiastically fed Holes some names. Crompton's real wish, it turned out, was for Holes to follow up on an old hunch of his that the bosses had prevented him from pursuing at the time.
Jurisdictional cooperation is spotty at best now but was downright dismal back in the late 1970s. Police Teletype and the gossip mill were the only ways cops heard about cases in other agencies. The EAR disappeared from the East Bay in the summer of 1979. Crompton's bosses nearly danced with relief. Crompton was panicked. He could tell the guy was escalating, that he was requiring more terror in his victims' eyes to get off; his threats about killing his victims, previously stilted in manner, were more severe but also looser, like someone shedding his inhibitions. Crompton worried. Inhibition shedding was not what the EAR needed.
In early 1980, Crompton got a call from Jim Bevins, a Sacramento Sheriff's investigator he'd become close to through their
Download


Copyright Disclaimer:
This site does not store any files on its server. We only index and link to content provided by other sites. Please contact the content providers to delete copyright contents if any and email us, we'll remove relevant links or contents immediately.