Molly's Game: From Hollywood's Elite to Wall Street's Billionaire Boys Club, My High-Stakes Adventure in the World of Underground Poker by Molly Bloom
Author:Molly Bloom [Bloom, Molly] , Date: December 24, 2017 ,Views: 2744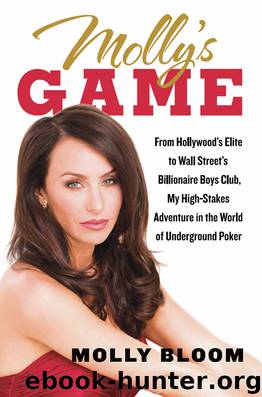 Author:Molly Bloom [Bloom, Molly]
Language: eng
Format: epub, mobi
Tags: Non-Fiction, Autobiography, Memoir
ISBN: 9780062213099
Publisher: HarperCollins
Published: 2014-03-10T13:00:00+00:00



Chapter 19
As soon as we got back from Vegas, I called Blake, the host from the hotel.
"I've got gold for you," he said. "I'm going to trust you that you'll come through with the trip."
"You have my word."
"His name is Derek Frost. He's young, rich, and a true degenerate. He's difficult, but he loses ten to twenty million a year. You want his number."
"What's his line of credit with you? How is he about settling his debts?"
"Three million. He always wants discounts and concessions but he always pays. He's a weird guy, though. Even though he is one of our biggest players, he prefers to fly Southwest, even though we would send any private plane he wanted."
I shook my head. Gamblers often had a unique perspective on money. At the beginning I didn't understand. I would shake my head in confusion as they complained about the price of the hotel room or the restaurants that catered the game, but had no problem betting six figures on a statistically dead hand. But I came to realize that every cent they bet represented an opportunity to make money, and even if the odds were against them, there was always a chance they could win.
I CALLED DEREK FROST, and we agreed to meet at a local coffee shop. When I arrived, the place was empty, which was strange for L.A. Nobody had office jobs here, and coffee shops were usually packed during the day.
I sat down outside in the sunshine and read through e-mails while I waited. After a few minutes, I looked up and saw a tall, darkly handsome man in—oh God—a police officer's uniform walking toward me.
"Molly?" he asked.
What the hell was going on here? Did Blake set me up? Was I getting arrested? I fought the urge to run.
"Yes," I said, nervous. "Are you Derek?"
I was trying to figure out if I could be committing any kind of crime by meeting a police officer for coffee in order to lure him to my "gray area" poker game.
"Don't worry," he said. "I'm just a volunteer cop. In my spare time."
"But that's still a cop, right?"
"Don't worry, we aren't after little girls and their games."
"You're not what I expected," I said.
"Likewise," he said. "I thought you would be older and not so cute."
I smiled, still totally thrown off and feeling like I needed to speak to my lawyer.
"Listen, if this were some attempt at a sting, would I show up here dressed in uniform?"
He had a point.
"Anyway," he continued, "it's a poker game, it's not illegal."
It was at moments like these that I realized I was walking a very fine line. In a truly legitimate line of work, one doesn't have a heart attack if a potential client shows up in law enforcement attire.
We went inside, where I learned a little bit about Derek. He hated Hollywood and the "fake people," and loved to gamble. He definitely wanted to play in the next game, and he definitely wanted to play in the big game.
Download


Copyright Disclaimer:
This site does not store any files on its server. We only index and link to content provided by other sites. Please contact the content providers to delete copyright contents if any and email us, we'll remove relevant links or contents immediately.