Bunk by Kevin Young
Author:Kevin Young , Date: November 16, 2017 ,Views: 2323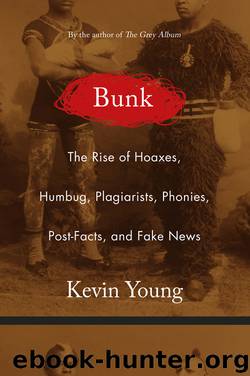 Author:Kevin Young
Language: eng
Format: mobi, epub
ISBN: 9781555979829
Publisher: Graywolf Press
Published: 2017-11-15T05:00:00+00:00



History as a movie: this is the forger's terroir, a double in the dark. "Movies have frequently used a mirror image to create a double of the self, a split of the ideal self from its dark reflection," Rogin writes. "But the screen also takes the place of a mirror."27 Is one real, the other fake? Or is the ideal also unreal? President Reagan proved the perfect leader to further usher in our Age of Euphemism, conflating what we see, what we say, and what we believe. No wonder it would take an invention like Dutch to discover what was possibly real amidst the image.
The main requirement of any biography, of course, is that it tells of someone we presume to want to know. Such a notion has become central somehow to our national politics—"having a beer with" a president has become as important as whether she has humane policies or bold ideas. But the biographical hoax comes up against the issue that dogs our lives, in both the written and lived senses: can anyone ever be known? "It has taken me many years to get used to seeing myself as others see me," Reagan's own autobiography (quoted by Rogin) says. "Very few of us ever see ourselves except as we look directly at ourselves in a mirror."
Yet a great biography—try David Hajdu's Lush Life about composer Billy Strayhorn, or Mark Stevens and Annalyn Swan's de Kooning, or Valerie Boyd's biography of Zora Neale Hurston—dispels falsehoods while getting to its subject, a slow but steady process the biographer lets us in on. This process can be fudged, sure, but can it be left out completely?
No one should write their autobiography until they're dead: Irving's epigraph from movie mogul Samuel Goldwyn, appended to the later, self-published editions of the Autobiography, indicates that the full import of a person's life is not usually revealed till after it's over. And perhaps not then—George Bernard Shaw declared while still a young man, "All autobiographies are lies. I do not mean unconscious unintentional lies; I mean deliberate lies. No man is bad enough to tell the truth about himself during his lifetime, involving as it must, the truth about his family and friends and colleagues. And no man is good enough to tell the truth in a document which he suppresses until there is nobody left alive to contradict him."28 We might say such contradictions are those of autobiography itself, in which the living tell a far different tale than the dead.
You cannot legally libel the dead. Irving's (not-so-) original book took advantage of this fact, as he notes in Project Octavio. One passage describes the publisher's lawyers thanking the strange fortune that most of the outrageous stories happened to be about the dead, never suspecting this was by design. More importantly, Irving realized Howard Hughes was essentially "socially dead"—he had retreated not only from high society but also from human society. This realization also governs other hoaxes we've seen that wisely target those deemed
Download


Copyright Disclaimer:
This site does not store any files on its server. We only index and link to content provided by other sites. Please contact the content providers to delete copyright contents if any and email us, we'll remove relevant links or contents immediately.