Eat That Frog! by Brian Tracy
Author:Brian Tracy , Date: December 16, 2017 ,Views: 3181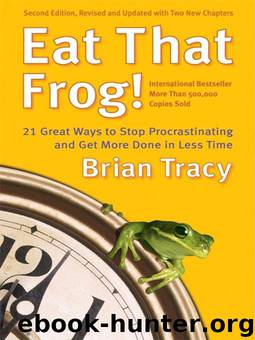 Author:Brian Tracy
Language: eng
Format: mobi, epub
Tags: Done, Personal Growth, Warez Science, Non Fiction, Business
Published: 2001-01-01T13:00:00+00:00



-OG MANDINO
DOING YOUR HOMEWORK is one of the most important personal productivity principles of all. Learn what you need to learn so that you can do your work in an excellent fashion. The better you become at eating a particular type of frog, the more likely you are to just plunge in and get it done.
A major reason for delay and procrastination is a feeling of inadequacy, lack of confidence, or inability in a key area of the task. Feeling weak or deficient in a single area is enough to discourage you from starting the job at all.
Continually upgrade your skills in your key result areas. Remember, however good you are today, your knowledge and skill are becoming obsolete at a rapid rate. As Pat Riley, the basketball coach, said, "If you're not getting better, you're getting worse."
One of the most helpful of all time management techniques is for you to get better at your key tasks.
Personal and professional improvement is one of the best time savers there is. The better you are at a key task, the more motivated you are to launch into it. The better you are, the more energy and enthusiasm you have. When you know that you can do a job well, you find it easier to overcome procrastination and get the job done faster and better than under any other circumstances.
One piece of information or one additional skill can make an enormous difference in your ability to do the job well. Identify the most important things you do and then make a plan to continually upgrade your skills in those areas.
Rule: Continuous learning is the minimum requirement for success in any field.
Refuse to allow a weakness or a lack of ability in any area to hold you back. Everything'in business is learnable. And what others have learned, you can learn as well.
When I began to write my first book, I was discouraged because I could use only the "hunt-andpeck" method of typing. I soon realized that I had to learn to touch-type if I was ever going to write and rewrite a 300-page book. So I bought a touch-typing program for my computer and practiced for twenty to thirty minutes every day for three months. By the end of that time, I was typing forty to fifty words per minute. With this skill, I have been able to write a dozen books that have now been published all over the world.
The best news is that you can learn whatever skills you need to be more productive and more effective.
You can become a touch typist if necessary. You can become an expert with a computer. You can become a terrific negotiator or a super salesperson. You can learn to speak in public. You can learn to write effectively and well. These are all skills you can acquire, as soon as you decide to and make them a priority.
Read in your field for at least one hour every day. Get up a little earlier in the
Download


Copyright Disclaimer:
This site does not store any files on its server. We only index and link to content provided by other sites. Please contact the content providers to delete copyright contents if any and email us, we'll remove relevant links or contents immediately.