Fanny Burney by Claire Harman
Author:Claire Harman [Claire Harman] , Date: November 8, 2017 ,Views: 25449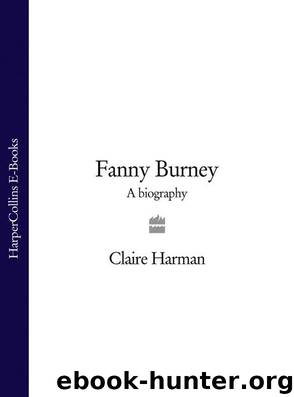 Author:Claire Harman [Claire Harman]
Language: eng
Format: epub
ISBN: 9780007391899
Publisher: HarperCollins Publishers



When Mrs Delany died that spring, in her eighty-eighth year, Fanny's only pleasure in life at Court died too; years of obscurity and unhappiness stretched ahead. And life at Court took a darkly dramatic turn later that year when the King fell seriously ill. A long visit to Cheltenham in the summer, to take the waters, had done nothing to cure his sporadic 'bilious attacks', nor his hyperactive 'flow of spirits', as Fanny described it.47 After a particularly bad 'bilious attack' in October, the King called in his chief physician, Sir George Baker, who attributed the illness to the fact that the King had worn damp stockings and eaten four large pears. Despite this comfortably trivial diagnosis, the symptoms did not subside and the royal party's routine return to Windsor from Kew after their weekly audience at St James's was delayed by several days. When Fanny met the King at the end of the week, she was alarmed at the change in him:
I had a sort of conference with his Majesty, or rather, I was the object to whom he spoke, with a manner so uncommon, that a high fever alone could account for it; a rapidity, a hoarseness of voice, a volubility, an earnestness – a vehemence, rather – it startled me inexpressibly[.]48
The King himself knew that something was amiss; he was mildly delirious, couldn't walk properly, sleep or speak, and said to one of the ladies-in-waiting, Lady Effingham, with a frankness and familiarity that was also one of his symptoms, 'My dear Effy […] you see me, all at once, an old man.'49 Fanny feared that he was on the verge of 'a great fever', others that his whole constitution was breaking down, though none of this was discussed openly. 'Nobody speaks of his illness, nor what they think of it', Fanny wrote in her diary.50 The word 'mad' was not mentioned at all.
Sir George Baker kept taking the King's pulse and occasionally examined his urine, but in truth had no idea what the matter was. 'Unformed gout', was one theory, and the wet stockings remained another. It wasn't until the 1960s that the likely cause, porphyria (a genetically passed-on condition), was investigated by Ida Macalpine and Robert Hunter in their book George III and the Mad-Business. In the crisis of 1788–9, the Court doctors simply sat tight, treated the symptoms as best they could and hoped the King's illness would pass before a definite diagnosis became necessary.
An article in the Morning Herald on 5 November however revealed to an anxious nation the fact that the King had been delirious during his 'indisposition'. This was a dangerous leak, reckoned 'treasonable' by the Queen, who was terrified by recent developments and their implications for the future. The same day, the Prince of Wales appeared at Windsor ready to assess the situation for himself, but his presence agitated the King to such an extent that at dinner he broke 'into positive delirium',51 attacked the Prince and sent the Queen into violent hysterics.
Download


Copyright Disclaimer:
This site does not store any files on its server. We only index and link to content provided by other sites. Please contact the content providers to delete copyright contents if any and email us, we'll remove relevant links or contents immediately.