The Bookshop by Penelope Fitzgerald
Author:Penelope Fitzgerald [Penelope Fitzgerald] , Date: November 22, 2014 ,Views: 3050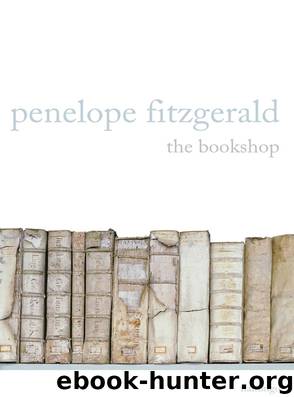 Author:Penelope Fitzgerald [Penelope Fitzgerald]
Language: eng
Format: epub, mobi
ISBN: 9780007373833
Publisher: HarperCollins Publishers



7
EVENTUALLY Mrs Gamart did come to the Old House Bookshop. It was a fortnight after the library reopened, this time at a much calmer tempo, as though the subscribers had restrained themselves and the atmosphere had mellowed with the advancing year.
Christine had grasped the system rapidly and had made short work of learning the names of subscribers she did not know, that is, those who lived outside Hardborough. She classified them by attributes – Mrs Birthmark, Major Wheezer, and so forth – just as Raven did to tell the cattle apart; otherwise he'd never know the strays. Their correct names followed, and in remembering what books they had asked for, and what in fact they were going to get, the child was unerring. Impartiality made her severe. The library did not open now until school was out, and under her régime no one was allowed so much as to look at anyone else's selection.
The late autumn weather made the little expedition to the library just about the right length for the retired, both for those who drove and walked and for those who pottered. They seemed to be prepared to accept the B books, and even the Cs, without much complaint.
Mrs Gamart opened the street door on an afternoon at the end of October. The sun had gone round, and her shadow preceded her down the steps. She wore a three-quarter length Jaeger camel coat. Florence recognized the moment as a crisis in her fortunes. She had been too busy lately to think about the pressure that had been put upon her, six months earlier, to leave the Old House – or rather, to be honest, she kept herself busy so that the thought would not be uppermost in her mind. It was uppermost now. The shop had been transformed into a silent battleground in a nominal state of truce. She was in authority, on her own ground, and with some kind of support, since Christine had arrived and was depositing her Wellingtons and cardigan in the backhouse. On the other hand, Mrs Gamart, as a customer, must be deferred to; and as a patroness she was in the unassailable position of having forgiven all. She had made a request in the name of the Arts, and it had been refused; the Old House was still a shop, and yet she continued to behave with smiling dignity.
The library section was full of mildly loitering subscribers. There were customers in the front of the shop as well.
'I can see you're very busy. Please don't put yourself out. I really came to have a look at your library, just to see how it works. I've been meaning to do it for so long.'
Christine, by arrangement, looked after the issues and library tickets, particularly if several people were waiting. Glad to be indispensable, she was combing out her pale hair, tugging at the knots, and energetically ready to take over. Then, more or less tidy, she sprang out of the backhouse with the enthusiasm of a terrier empowered, for the afternoon, to act as a sheepdog.
Download


Copyright Disclaimer:
This site does not store any files on its server. We only index and link to content provided by other sites. Please contact the content providers to delete copyright contents if any and email us, we'll remove relevant links or contents immediately.