On Writing A Memoir of the Craft by Stephen King
Author:Stephen King [King, Stephen] , Date: February 24, 2017 ,Views: 3890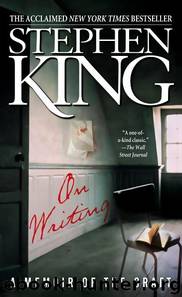 Author:Stephen King [King, Stephen]
Language: eng
Format: epub, azw3, mobi
Tags: Fiction, General, Language Arts & Disciplines, Biography & Autobiography, King, Stephen - Authorship, Science Fiction & Fantasy, Horror tales, 20th century, Horror tales - Authorship, Literary, Stephen, American, Literary Criticism, Authorship, Authors, Composition & Creative Writing, American - 20th century, Biography
ISBN: 9780743455961
Publisher: Pocket Books
Published: 2002-06-25T10:00:00+00:00



You can read anywhere, almost, but when it comes to writing, library carrels, park benches, and rented flats should be courts of last resort—Truman Capote said he did his best work in motel rooms, but he is an exception; most of us do our best in a place of our own. Until you get one, you'll find your new resolution to write a lot hard to take seriously.
Your writing room doesn't have to sport a Playboy Philosophy decor, and you don't need an Early American rolltop desk in which to house your writing implements. I wrote my first two published novels, Carrie and 'Salem's Lot, in the laundry room of a doublewide trailer, pounding away on my wife's portable Olivetti typewriter and balancing a child's desk on my thighs; John Cheever reputedly wrote in the basement of his Park Avenue apartment building, near the furnace. The space can be humble (probably should be, as I think I have already suggested), and it really needs only one thing: a door which you are willing to shut. The closed door is your way of telling the world and yourself that you mean business; you have made a serious commitment to write and intend to walk the walk as well as talk the talk.
By the time you step into your new writing space and close the door, you should have settled on a daily writing goal. As with physical exercise, it would be best to set this goal low at first, to avoid discouragement. I suggest a thousand words a day, and because I'm feeling magnanimous, I'll also suggest that you can take one day a week off, at least to begin with. No more; you'll lose the urgency and immediacy of your story if you do. With that goal set, resolve to yourself that the door stays closed until that goal is met. Get busy putting those thousand words on paper or on a floppy disk. In an early interview (this was to promote Carrie, I think), a radio talk-show host asked me how I wrote. My reply—"One word at a time"—seemingly left him without a reply. I think he was trying to decide whether or not I was joking. I wasn't. In the end, it's always that simple. Whether it's a vignette of a single page or an epic trilogy like The Lord of the Rings, the work is always accomplished one word at a time. The door closes the rest of the world out; it also serves to close you in and keep you focused on the job at hand.
If possible, there should be no telephone in your writing room, certainly no TV or videogames for you to fool around with. If there's a window, draw the curtains or pull down the shades unless it looks out at a blank wall. For any writer, but for the beginning writer in particular, it's wise to eliminate every possible distraction. If you continue to write, you will begin to filter out these distractions naturally, but at the start it's best to try and take care of them before you write.
Download


Copyright Disclaimer:
This site does not store any files on its server. We only index and link to content provided by other sites. Please contact the content providers to delete copyright contents if any and email us, we'll remove relevant links or contents immediately.