Hitman by Howie Carr
Author:Howie Carr , Date: March 25, 2014 ,Views: 4211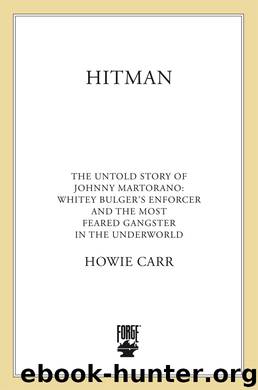 Author:Howie Carr
Language: eng
Format: epub, mobi
Publisher: Tom Doherty Associates



Kevin O'Neil, Whitey underling, acquitted on murder charges in 1969.
* * *
IT WAS December 1973. The decision had been made to whack Spike O'Toole. Once more they set up shop in Joe Mac's place, the Fire House, waiting for the call from Eddie Connors. They were hanging around, playing cards, with the boiler right outside Joe's house, ready to go. They also had cars moving around Dorchester, looking for him.
Finally, the Hill sent somebody into the Bulldog and he spotted Spike. They drove over immediately—for a hit so close to Southie, Whitey Bulger insisted on driving.
They watched Spike unsteadily leave the Bulldog, and he reeled down to the corner to wait for the bus. He hadn't been out of prison that long and the fact that he didn't even have a car yet obviously meant that he was broke. But over the years, O'Toole had proved himself a capable guy and nobody felt like taking any chances. He was standing behind a mailbox at Savin Hill and Dot Avenue when Whitey pulled up in the boiler. Johnny let him have it with a grease gun—shot Spike right through the mailbox—and O'Toole fell to the ground, perforated. He'd been dead drunk; now Spike O'Toole was just dead. But Joe Mac jumped out of the car anyway, ran up to O'Toole, stood over his body, and lifted his ski mask. Assuming that Spike was still technically alive, Joe Mac wanted Spike to know that he had been killed by Winter Hill. After showing his face to Spike, Joe Mac pulled the mask back down and fired twice into Spike's head.
"I just wanted to make sure he was dead," he explained later.
Back in the car, Whitey had other concerns. A pedestrian had heard the shots, and foolishly had started crossing the street toward the boiler. In the dark, Whitey reached for a gun, then realized he didn't have one. He settled for pointing his index finger at the concerned citizen, enough of a warning to get the guy to keep moving, away from the car.
Later, back at the garage, Whitey told the others he'd learned a very important lesson.
"Never again do I go out on a hit without a gun," he said.
* * *
GEORGE KAUFMAN got a call one day in the garage from Bobby Daddieco's sister. She said her brother wanted to talk to him. George said sure, and soon Bobby was on the line. He was in the Midwest, in very loose federal custody, and he wanted everybody back in Boston to know that it was only Frankie Salemme he hated and wanted to get even with, not Stevie.
Kaufman realized what Daddieco was getting at, and told him it would be better if he spoke directly to Howie Winter.
Daddieco calls Howie and tells him, no way is he interested in testifying against Stevie, but he needs to get away from the feds, and he's got no money and no wheels, and he could sure use a truck. Howie says, I think that can be worked out; we'll get a truck for your sister, and she can get it to you.
Download


Copyright Disclaimer:
This site does not store any files on its server. We only index and link to content provided by other sites. Please contact the content providers to delete copyright contents if any and email us, we'll remove relevant links or contents immediately.