We're Going to Need More Wine by Gabrielle Union
Author:Gabrielle Union , Date: October 25, 2017 ,Views: 17637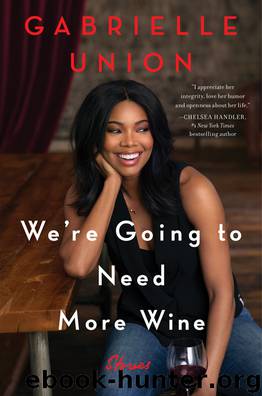 Author:Gabrielle Union
Language: eng
Format: epub
Publisher: HarperCollins
Published: 2017-09-14T04:00:00+00:00



ten
CRASH-AND-BURN MARRIAGE
Have you ever had a dream where you're in a car and you're heading right for a wall? You're trying to hit the brakes, but you just speed closer and closer to your doom? Well, you are cordially invited to my first wedding.
May 5, 2001, was a hot day, even for New Orleans. My bridesmaids were all hungover, their faces puffy and shiny from frozen daiquiris and hurricanes, a peril of having your wedding during Jazz Fest. Just before the ceremony, they were rock-paper-scissoring to see who got to go down the aisle with the Heisman winners. The loser had to walk with the groom's friend who was just sprung from jail. He'd made bail in a murder case and was still wearing prison braids, as fuzzy as his alibi.
Their game of rock-paper-scissors was a convenient distraction from what I was pretty sure could be a heart attack. But once they all walked, it was just me, myself, and my anxiety, standing at the beginning of an aisle that now seemed a country mile long. At the end was Chris, someone I had no business marrying.
I took a step, and my shaking started with the first chords of "Endless Love." I was on the edge of sobs, but not the usual wedding tears of a bride overcome by emotion. Everyone could tell, especially my father. He looped his arm through mine to escort me, which is to say drag me, down the aisle.
"Stop it," he hissed in my ear. "Stop this right now. You're back at Foothill High School. You're the point guard; you're leading your team. Stop this foolishness."
I nodded, trying to turn my ugly-cry into a game face. Two guests I didn't recognize jumped in front of the videographer to take photos. They paused a beat, each lowering their disposable cameras and smiling as if giving direction. Like maybe I'd get the idea and be happy. Chris and I hadn't thought to write the number of guests allowed on the response card, so our wedding planner had simply seated, say, fifteen people on a card that went to one cousin. "The girl from Bring It On is marrying that football player, so invite the whole block," I imagine them saying. "Well, yeah, he got cut from the Jacksonville Jaguars, but he's hoping to be a Raider."
As Dad held me up down the aisle, I saw that the pastor that Chris's mother had insisted we use was not there. My family is Catholic, but Chris wouldn't commit to doing the Pre-Cana classes you have to take in order to get married by a priest. His mother's suddenly precious pastor had skipped the rehearsal. I thought if he was a no-show, that would be my out. Then I saw him, blending in and chatting with the groomsmen. Mingling at my wedding ceremony.
I had asked one of my closest guy friends, Dulé Hill, to do a reading. He was playing Charlie on The West Wing at the time, and I had been his girlfriend on the show.
Download


Copyright Disclaimer:
This site does not store any files on its server. We only index and link to content provided by other sites. Please contact the content providers to delete copyright contents if any and email us, we'll remove relevant links or contents immediately.