Joan of Arc by Mary Gordon
Author:Mary Gordon , Date: October 13, 2017 ,Views: 2980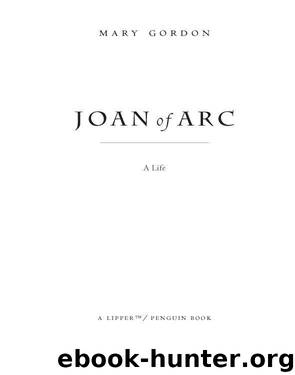 Author:Mary Gordon
Language: eng
Format: epub
Publisher: Penguin Group US
Published: 2010-03-01T05:00:00+00:00



Her Violence: "A Bloodthirsty Wench"?
Joan's voices led her not into a convent or to a hermit's cave but into battle. Her métier was violence. Yet her attitude toward the realities of war—shed blood, torn flesh—is difficult to pin down. Like so much else about her, it seems contradictory and uneven. There is the girl who weeps at both French and English carnage, who cradles an English soldier's head in her lap and hears his confession before he dies. There is the accused prisoner who swears that she never killed a man. Can that be possible? And if it is, what does it say about her as a warrior? Marina Warner questions whether her role as warrior, given this evidence, was more ceremonial than actual.
What did she like about war? Or about going to battle? When questioned during her trial, she said she loved "her standard forty times more than her sword."7 She herself bore her standard during an attack, she said, in order to avoid killing anyone. And she added that she had never killed anyone at all. But she bragged that her sword was good for giving (in different translations) "good slashes," "good buffets and good swipes," or "good clouts." Is it possible that she could have slashed, buffeted, swiped, and clouted men who were wielding their swords at her and have killed no one? Possible but not likely; and anyone with pride in her sword knows what it's capable of and why she has it in her hand.
What does it mean to call yourself a chef de guerre but to arrange things so that you never have to kill anyone? What did she think she was about? What did she think a soldier's business was? Soldiers are, after all, in the killing business, not in the standard-bearing business.
So was it that she liked action and the company of men of action, that she liked danger and the escape from and survival of it? That she liked being obeyed, that she liked the attention that came with being in armor, carrying a standard at the head of a group of soldiers? That she loved display and the elaborate dress that such display required and was expert in the art of both? She made herself, by her white armor, her cloak in the Orléans colors, her short gold jacket, desirably visible, and the sight of her inspired her troops. She reveled in this power. Is she different from other soldiers in forgetting that the enterprise that allows her to dress up and to parade involves butchery?
Was she so intent upon the idea of a France united under Charles, the French king, that she forgot the bloodshed involved? It is important to remember that fifteenth-century warfare was much less distant and abstract than its modern counterpart. Vita Sackville-West notes that, in comparison to modern warfare,the personal element was much more dominant for each man concerned. He was in no danger of being suddenly blown to bits by an unseen gun a couple of miles away.
Download


Copyright Disclaimer:
This site does not store any files on its server. We only index and link to content provided by other sites. Please contact the content providers to delete copyright contents if any and email us, we'll remove relevant links or contents immediately.