Empire of the Sikhs by Patwant Singh
Author:Patwant Singh , Date: March 3, 2015 ,Views: 21830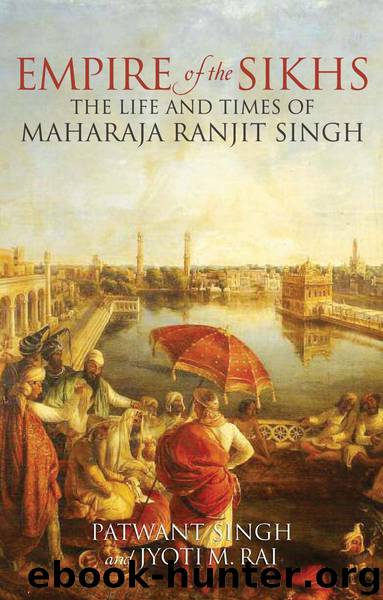 Author:Patwant Singh
Language: eng
Format: epub
Publisher: Peter Owen Publishers
Published: 2008-03-02T16:00:00+00:00



Coping with his women must have been no less daunting a task for Ranjit Singh than dealing with the many adversaries he faced during his eventful reign. They numbered literally hundreds if the count includes all his wives, concubines and the regiment of Amazons he had created with an eye on both their physical fitness and striking looks. And then there were the ladies, mostly widows, who came under the category of chadar dalna (under his protection). Historians disagree on the numbers in each category.
Ranjit Singh's detachment of Amazons seems, not surprisingly, to have been a draw for most of the British officers. In conversation with W.G. Osborne on military discipline, Ranjit Singh once said that there was one regiment he could not manage and which gave him more trouble than his entire army put together – the beautiful recruits from Kashmir, Persia and the Punjab: the Amazons. He also added jestingly: would the British be able to manage such a formation better?
At first there were around a hundred and fifty warriors in this regiment, but the numbers varied. Osborne describes how once when he and his party visited Lahore, 'a considerable degree of excitement prevailed among the fairer portion of the Sikh army' owing to rumours that, following the East India Company's example, the Maharaja also intended to take back all grants for which no formal title deeds could be produced. 'I believe', writes Osborne, 'Runjeet would sooner face Dost Mahommed and his Afghans than a single individual of his Amazonian bodyguard.'11 Fortunately for everyone, the rumours proved to be inaccurate. These beautiful, enticingly dressed, voluptuous women armed with bows and arrows were mounted on horseback en cavalier – a position that greatly appealed to the Maharaja. They also entertained guests in the evenings with music and dance, often against a backdrop of fireworks.
One Amazon of colourful character and exquisite beauty was called Lotus. She was sent as a tribute from Kashmir to Ranjit Singh in the mid-1830s. He was totally captivated by her and assumed she was madly in love with him. One day, while Lotus was dancing before them, he remarked to General Ventura that the dancer was so taken with him that she would not entertain offers from any other man. The Italian general's face showed disbelief. Ranjit Singh, irked at the doubt cast on his own powers of attraction, challenged Ventura to seduce her. He added that he would put no pressure on her and she would be kept secluded in his zenana. After much hesitation on Ventura's part on the desirability of vying for the affections of his sovereign's favourite, he accepted the challenge. Within forty-eight hours it was known throughout the court that the lovely Lotus was now no more in her royal lover's garden but in the Italian general's. Ranjit Singh did not seem to mind her desertion very much, but Lotus did and soon left her lover to return to the Lahore court and Ranjit Singh.
It was far from Ranjit Singh's
Download


Copyright Disclaimer:
This site does not store any files on its server. We only index and link to content provided by other sites. Please contact the content providers to delete copyright contents if any and email us, we'll remove relevant links or contents immediately.