The Six Wives Of Henry VIII (WOMEN IN HISTORY) by Fraser Antonia
Author:Fraser, Antonia [Fraser, Antonia] , Date: March 25, 2014 ,Views: 4543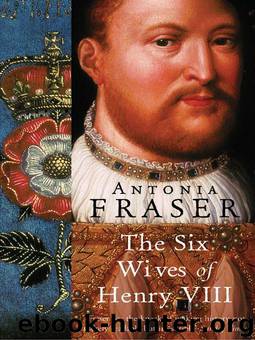 Author:Fraser, Antonia [Fraser, Antonia]
Language: eng
Format: mobi, epub
ISBN: 9781780220673
Publisher: Orion
Published: 2011-06-15T23:00:00+00:00



CHAPTER TWELVE
The Third Marriage
This the third marriage was confirmed by them all to be good and lawful.
Chronicle by a monk of St Augustine's, Canterbury, 1536
The trial of Queen Anne Boleyn was a cynical operation, intended to have only one result: her death. This death was necessary so that the King could achieve a third marriage as free from stain as the reputation of his new sweetheart. In this respect Queen Anne's trial was completely different from the ordeal endured by Queen Catherine in 1529: then at least, at Blackfriars, there had been a genuine spirit of enquiry – or at any rate some genuine confusion – about the validity of her marriage to King Henry. But no one was in any doubt, either during the trial of Anne Boleyn's alleged lovers, or during her own, that a guilty verdict was expected to be reached, and that it would be reached. It was a case of Norfolk's saying writ large: Indignatio principis mors est – the anger of the sovereign means death, even when the object of the rage is a wife.
Why was it considered essential to dispose of Queen Anne so completely? The answer to this lies in the behaviour of her predecessor. Once upon a time the King and his advisers had envisaged a dignified withdrawal from the stage by Queen Catherine, possibly into a convent. Instead they had faced seven years of protest, taking forms as various as imperialist threat from outside and personal support for Catherine from within the country. Anne Boleyn was not going to be given the same opportunity. Dismissal with what was in effect another divorce would have saddled the King with yet another ex-wife, only a few months after he had been freed by death from the first one. The timing of Queen Catherine's death had accelerated the downfall of Queen Anne: now once again, the influence of the dead woman stretched from beyond her grave in Peterborough Cathedral to pull down the woman who had supplanted her.
Very likely Cromwell did not even tell his master what he intended to do. There is a comparison to be made with the four knights who murdered Thomas à Becket in 1170; hearing Henry II cry out against 'this turbulent priest' they thought they knew the royal mind and acted accordingly without further consultation. The King's disgust with his second wife was public property ever since those ominous royal rumblings about witchcraft and the like following her miscarriage. His conscience was once again uneasy and it was absolutely necessary for Henry VIII to feel that 'God and his conscience were on very good terms' – as he had assured Chapuys that they were over the dissolution of his marriage to Catherine.1
It is true that the workings of the King's conscience followed the dictates of his heart amazingly conveniently. But this did not mean that he did not have a conscience. On the contrary, it was a lively and important part of his nature. This coincidence between
Download


Copyright Disclaimer:
This site does not store any files on its server. We only index and link to content provided by other sites. Please contact the content providers to delete copyright contents if any and email us, we'll remove relevant links or contents immediately.