Leonardo da Vinci by Walter Isaacson
Author:Walter Isaacson [Isaacson, Walter] , Date: November 13, 2017 ,Views: 11233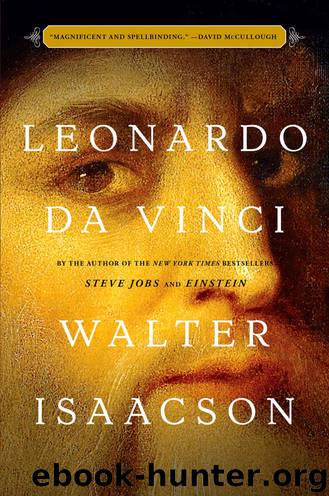 Author:Walter Isaacson [Isaacson, Walter]
Language: eng
Format: azw3, epub
Publisher: Simon & Schuster
Published: 2017-10-17T04:00:00+00:00



MADONNA OF THE YARNWINDER
Friar Pietro, in one of his letters to the persistent Isabella, described a painting that Leonardo was doing at the request of Louis XII's secretary, Florimond Robertet. "The little picture he is working on is of a Madonna who is seated as if she were about to spin yarn," he wrote, "and the child has placed his foot in the basket of yarns and has grasped the yarnwinder, and stares attentively at the four spokes, which are in the form of a cross, and he smiles and grips it tightly, as if he were longing for this cross, not wishing to yield it to his mother, who appears to want to take it away from him."19
Dozens of versions of this picture, either by Leonardo or his assistants and followers, still exist, and there has been much debate by experts, as well as some advocacy by owners and dealers, regarding which might be the one Leonardo himself painted and sent to Robertet. Two of the surviving versions, known as the Buccleuch Madonna and the Lansdowne Madonna (fig. 78), are considered most likely to reflect the most involvement of Leonardo's own hand. But the quest to designate the "real" or "original" Leonardo version actually misses the larger meaning of the tale of the Yarnwinders. When he returned to Florence in 1500, Leonardo set up a collaborative workshop, and production of some pictures, especially small devotional ones, became a team effort, just as it had been in Verrocchio's studio.20
The emotional power of the Yarnwinder scene comes from the psychological complexity and intensity of the baby Jesus as he contemplates and grapples with the yarnwinder, which is in the shape of a cross. Other painters had shown Jesus looking at objects that foretold the Passion, as Leonardo had done in the devotional paintings of the Madonna and Child he had made Benois Madonna and other little paintings in his early years. But the Yarnwinder paintings are energized by what had become Leonardo's special ability to convey a psychological narrative.
There is a flow of physical motions as Jesus reaches toward the cross-like object, his finger pointed heavenward, the gesture that Leonardo loved. His moist eyes are shiny with a tiny sparkle of luster, and they have their own narrative: he is just the age when a baby can discern objects and focus on them, and he is doing so with a concerted effort that combines his sight with his sense of touch. We sense that his ability to focus on the cross causes a premonition of his fate. He looks innocent and at first playful, but if you look at his mouth and eyes you sense a resigned and even loving comfort with what will be his destiny. By comparing Madonna of the Yarnwinder to the Benois Madonna (fig. 13), we can see the historic leap Leonardo made by turning static scenes into emotion-laden narratives.
Fig. 78. Madonna of the Yarnwinder (Lansdowne version).
Download


Copyright Disclaimer:
This site does not store any files on its server. We only index and link to content provided by other sites. Please contact the content providers to delete copyright contents if any and email us, we'll remove relevant links or contents immediately.