Everything Happens for a Reason by Kate Bowler
Author:Kate Bowler , Date: February 8, 2018 ,Views: 3826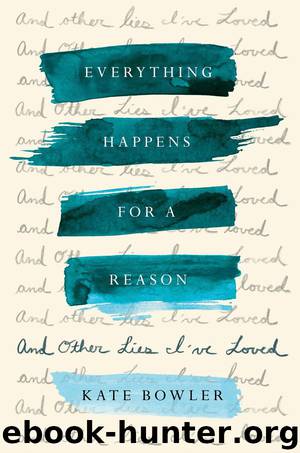 Author:Kate Bowler
Language: eng
Format: epub
Publisher: Random House
Published: 2018-02-06T05:00:00+00:00



CHAPTER 6
Christmas Cheer
THE LONG DAWN OF ADVENT will soon begin, and now we are all learning to wait. Christmas is coming and the baby Jesus will be born, but for now we must sit in the darkness.
I come from a Christmas home. I'm sure other people will say that they are Christmas enthusiasts, but—I say this with all sincerity—they are deceived. When I was growing up, we ate, breathed, and slept December 25. If there was a song to sing, it was a Christmas carol. If there was an inflatable member of the nativity scene that could be added to our front yard, it was waving in the wind. And if there was a pause on a long car ride on a hot July afternoon, it was because my dad was trying to come up with another way to ask: "Who is your favorite wise man?" Years ago, my dad started writing Christmas trivia quizzes for parties, and these grew into a number of historical books about Santa Claus and Christmas controversies, as well as a global encyclopedia of the holiday; these cost him ten years and roughly six hundred Christmas ornaments bought for "academic reasons." There is nothing my family loves more than our white Canadian Christmases in our crappy bungalow surrounded by blow-up Christmas figures that belong outside a car dealership.
This year I need Christmas, but not Christmas as usual. I need a miracle somewhat smaller than God becoming a baby and somewhat bigger than the promises of the Duke doctor who keeps using the word palliative.
Then at one of our appointments Dr. Palliative mentions that there are a few variables that might change the course of my treatment. Ninety percent of people with advanced colon cancer will receive chemotherapy and get their limited chance at life beyond five years. But there are two other options: I might be among the 7 percent of people who have a disorder in which cancer cells multiply beyond control so quickly that there is no treatment at all. It is an automatic death sentence. Or I might be among the remaining 3 percent who have a variation on that disorder that opens them up to possible new treatments. They'll give me a call in a couple of weeks and let me know.
"So, I either maybe live, die almost immediately, or have some kind of magic cancer that gets special treatments?" I ask.
"Pretty much," he says.
"Okay," I say. They have already drawn blood, and now I just have to wait for the results. As it turns out, the results come back in a couple of days, but I am too preoccupied to check my voice mail like a normal person. I get the news a week later, sitting outside, wrapped in blankets, fiddling with my phone.
"Hi, this is a call from the cancer clinic. We got your results back. The doctor said to tell you that you have the magic cancer, and that you'd know what that meant." I freeze. And then I play it again.
Download


Copyright Disclaimer:
This site does not store any files on its server. We only index and link to content provided by other sites. Please contact the content providers to delete copyright contents if any and email us, we'll remove relevant links or contents immediately.