Waking Up in Heaven: A True Story of Brokenness, Heaven, and Life Again by McVea Crystal & Tresniowski Alex
Author:McVea, Crystal & Tresniowski, Alex [McVea, Crystal & Tresniowski, Alex] , Date: March 25, 2014 ,Views: 36710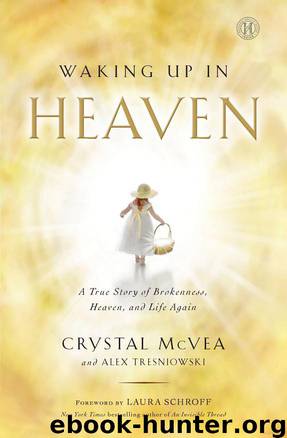 Author:McVea, Crystal & Tresniowski, Alex [McVea, Crystal & Tresniowski, Alex]
Language: eng
Format: epub
Tags: Non-Fiction, Inspirational, Religion, Spirituality, Biography
ISBN: 9781476711874
Google: 6wTGDWC4S2MC
Amazon: 1476711879
Publisher: Howard Books
Published: 2013-04-02T06:00:00+00:00



A FEW MONTHS had passed since we ended our friendship with the couple. I'd returned to my normal life, or as normal as I could get it. I taught school. I watched my kids play in the school band. I made them lunches and put notes on their napkins telling them how much I loved them. I didn't need to sleep with the lights on anymore, and—after not praying for weeks out of fear and confusion—I'd even started to pray again. Most evenings in our house were quiet, just the way I liked them.
On one of those evenings I invited a family friend to our home. She was a respected businesswoman and an all-around wonderful lady, and I was very close with her. I'd known her all my life, and she was down to earth and thoughtful and someone I considered a dear friend. I knew she didn't drink, but that night in my home she treated herself to one glass of wine. I didn't think anything of it, and our ordinary evening continued.
But within an hour or so, her mood changed. She started talking loudly and got very aggressive, and she said things she knew would upset me. My first thought was, If she's drunk, I don't have time to babysit her. And I don't want my kids to see this, so I better drive her to her aunt's home, which wasn't too far away. I called ahead, got my friend in my car, and we drove off.
On the way, she got even louder and meaner. At one point she grabbed the steering wheel, and I had to push her away and back in her seat. At her aunt's house, we sat her down in a recliner in the living room and let her cool down a bit. Instead, she only got more worked up. I'd never seen her act this way, and I could hardly believe a single glass of wine could cause it. She was staring at me now, just like my former friend had, with hatred in her eyes. And when she spoke she used a voice I didn't recognize as hers. Her uncle watched her and tried to make sense of her behavior, and her aunt was unnerved enough to grab a Bible and start reading passages aloud. And, just as it happened in the last incident, my friend started spitting the verses back in an ugly singsong voice. Then she started reciting the verses quickly, as if she knew them by heart, though I was sure she didn't know the Bible that well.
I felt a sickening knot in my stomach. One glass of wine could not explain all this. Her aunt kept reading the Bible, and she kept mocking her, until suddenly she stopped and looked straight at me.
Then she said something so vile and so brutal, I can't even repeat it in these pages.
Using horribly vulgar language, she told me I got exactly what I deserved as a child and she said she was responsible for all the horrible sexual abuse I'd suffered.
Download


Copyright Disclaimer:
This site does not store any files on its server. We only index and link to content provided by other sites. Please contact the content providers to delete copyright contents if any and email us, we'll remove relevant links or contents immediately.