How to be Champion: My Autobiography by Sarah Millican
Author:Sarah Millican [Millican, Sarah] , Date: November 18, 2017 ,Views: 2985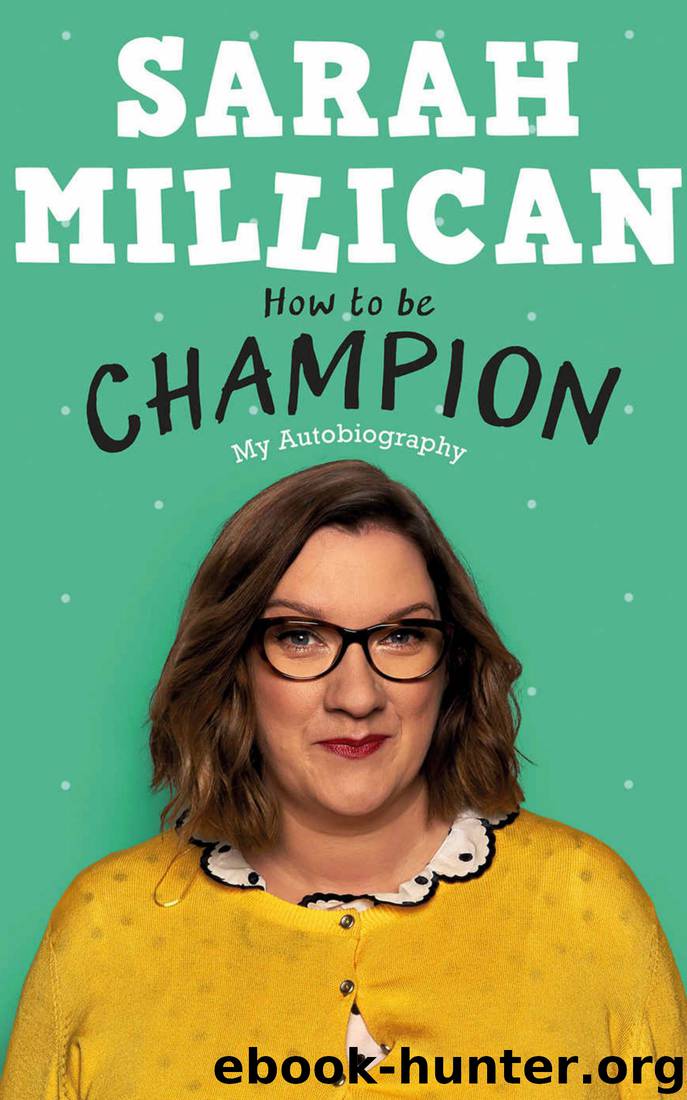 Author:Sarah Millican [Millican, Sarah]
Language: eng
Format: epub
Tags: Non-Fiction, Humor, Autobiography, Memoir, Comedians
ISBN: 9781409174332
Publisher: Orion Publishing Group
Published: 2017-10-04T16:00:00+00:00



HOW TO BE CHAMPION
Be a good friend. It's the best thing you can be. But only with those who would reciprocate. One-sided friendships are draining and hard. Friends are like family for adults.
Your best friend can totally be a dog.
Chapter 23
The Six Men I Have Loved
1. Shakin' Stevens
Some might call him a poor man's Elvis (my mam, herself a big Elvis fan; she even had an Elvis pillowcase as a teen), but for a long time Elvis was to me a poor man's Shaky. 'This Ole House', 'Green Door', 'Woahowoah Julie', 'Lipstick, Powder and Paint' – all classics. If I had never heard 'This Ole House', I wouldn't have known what shingles were when my mam got them. And thank God her doctor had time to fix them. I identified a lot with 'Green Door'. 'Don't know what they're doing but they laugh a lot behind the green door' reminds me of all the fun I've been sitting outside of. My sister and cousin once shut me out of the bedroom we were all sharing so they could have a midnight feast. They'd saved apples and Polo mints so it was going to be great. I was stuck on the landing so I made crying noises on the stairs 'til my mam, who was chatting with my auntie, asked what was wrong and the plug was pulled on the whole thing.
Shaky was my first real crush. I vaguely remember dancing in front of the telly when I was about five during his performance on Top of the Pops. I didn't understand anything about telly so I thought that every time he looked at the camera he was looking at me, and I danced HARDER. He followed me a few years ago on Twitter. For all the times Twitter is an arsehole, the days he and Jason Donovan followed me are worth it.
2. Phillip Schofield
My main love during my formative years was Phillip Schofield. Still the longest relationship I've ever had, and I've been married twice. My love for him is well documented. There was a time when I cleaned my parents' house to make money to spend in Athena on posters, prints and postcards of the broom-cupboard god. I sent him a photo of my bedroom bedecked in Athena's finest prints of his life when he lived with Gordon the Gopher.* He sent it back. Signed. Whenever a BBC envelope plopped on the doormat, I'd get so excited my mam would make me run up and down the hall to get it out of my system.
He said 'happy birthday' to me on his radio show once. I'd sent in a shop-bought birthday card that had a hamster on the front. I signed it as if it was from me and Hilary Hamster. He read it out then said to his listeners, 'I love reading your cards and remember, you don't have to try to be funny.' Crushed. It was my first joke and it didn't work. Maybe the fact that I do stand-up now was all just a bounce-back from that.
Download


Copyright Disclaimer:
This site does not store any files on its server. We only index and link to content provided by other sites. Please contact the content providers to delete copyright contents if any and email us, we'll remove relevant links or contents immediately.