Still Foolin' 'Em by Billy Crystal
Author:Billy Crystal , Date: March 25, 2014 ,Views: 35143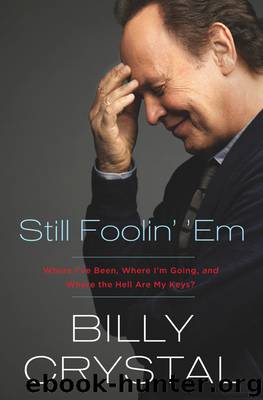 Author:Billy Crystal
Language: eng
Format: epub, mobi
Publisher: Henry Holt and Company



First moment on stage with Gorbo.
David Bromberg warmed up the crowd. "How many of you have relatives in prison?" he joked. He explained who I was, and what a big moment this was for Soviet-American relations and American television. He then introduced me, and I walked onstage to a strong round of applause. I went over to the wings, where it looked like I was shaking someone's hand. I was—it was a life-size cutout of Gorbachev with a movable arm. When the audience saw this, I could feel their astonishment. The American had already done something a Soviet comic could not do: make fun of the boss. A few people looked around, probably thinking that soldiers were coming to take them away for laughing. In fact, there were some soldiers in the audience, and they were laughing as well. I then launched into my jokes in Russian, my accent strong: "I am the first American comedian to come to Moscow, with the exception of Ronald Reagan." I told them how similar we actually are: "You have the Russian circus, we have Congress, you have Baryshnikov … we have Baryshnikov.…" Again the audience was delighted. They loved the Chaplin piece; I got them to do "the Wave" with me, hundreds of Soviets standing and throwing their arms in the air as the wave moved around the theater, something never before seen in Russia; and both shows went as well as any performance I had done in America. I had hoped I would be able to do twenty-five minutes or so, and in both performances I did an hour, ending with the man-on-line monologue, which brought the Soviets to their feet, cheering and throwing flowers to me on stage.
As I bowed and waved good night I saw my new family applauding their cousin. It was just like being in the living room in Long Beach.
The next night we finished our shooting at a lonely train station outside Moscow. Jenny and I did our scene together, and it was truly magical. Acting with my daughter, already a fine actress, portraying her great-grandmother on her way to a new life was the perfect ending to this whole experience.
* * *
After hosting the Grammys for three years, I was asked to be a presenter at the Academy Awards. The show that year was a disaster. The now infamous moment of Rob Lowe singing "Proud Mary" with Snow White opened the show, and the rest was chaotic. Still, when I walked out there that night to introduce Gregory Hines and Sammy Davis Jr., I felt that I was in the right place. I was now part of the movie community. A few months later, Gil Cates asked me to host the Oscars the next year. He was producing the show for the first time. The Oscars had become a laughingstock, and together our goal was to make the show something special again.
By then When Harry Met Sally … was a big hit, and Nora had been nominated for Best Screenplay.
Download


Copyright Disclaimer:
This site does not store any files on its server. We only index and link to content provided by other sites. Please contact the content providers to delete copyright contents if any and email us, we'll remove relevant links or contents immediately.