The Perils of Being Moderately Famous by Soha Ali Khan
Author:Soha Ali Khan , Date: January 10, 2018 ,Views: 3599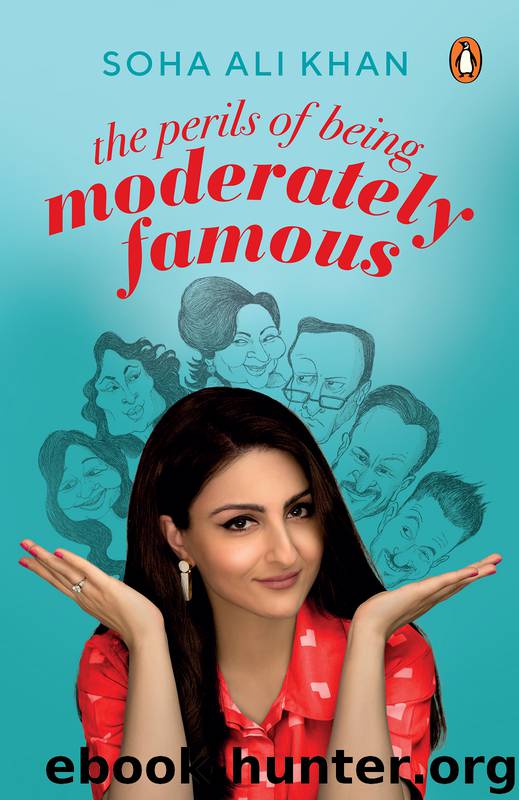 Author:Soha Ali Khan
Language: eng
Format: epub
ISBN: 9789387326477
Publisher: Penguin Random House India Private Limited
Published: 2017-11-15T05:00:00+00:00



The film received huge acclaim as a rare progressive vision of modern urban relationships. And what I lacked in dialogue and clothing, I more than made up for in gravitas and believability. Thirty-odd years later I would rock my own borrowed baby to sleep in 31st October. Apart from that similarity of action, performed by every leading lady at some point in her line of work, there has been little that my career has had in common with my mother's.
Amman is a superstar, a living legend, Bollywood royalty. I am what is called a 'working actor'—this essentially means I am an actor who while I may never achieve superstardom, have had a long and productive career, earn a better than decent living and have the admiration of my peers (to the extent that anyone today has the admiration of their peers!). My achievements are assuredly meritorious and allow me to hold my head high in society, but I am aware that when compared to Amman's, they pale like a gluten-free muffin in the face of red velvet.
You would not be wrong to wonder then why an academically inclined, stability-seeking private banker chose to jettison her corporate job with its cushy perks for the mercurial medium of the movies, and with it, the inevitably unfavourable comparisons to iconic mothers and brothers. I will get to the why, but first let me tell you the how.
So there I was pushing papers at Citibank in 2003—less than content but not unhappy and certainly not motivated enough to actually do anything about it—when I received a phone call that would change my life. Amol Palekar called me and asked if we could meet to discuss a film he was directing. I could have just said I wasn't interested in acting in movies or I already had a job and a plan or that my parents would be furious I was even considering this. Instead I said, 'How's Saturday?' and then went home to speed-watch every Amol Palekar film my DVD guy could source. There is no harm in meeting him, I thought. Surely it would be disrespectful to refuse such a senior member of the industry, I told myself. Also there was no need to share this development with anyone who may read more into my inconsistent disposition.
I didn't need to remind myself that acting in Hindi movies was a career option I had summarily dismissed at the age of eighteen when a very well-established director came to our home in Delhi to meet my mother, offering me a starring role opposite a properly famous hero. The idea of dropping out of Oxford to act in a Hindi film was so alien to me it was laughable and, much to the relief of my secretly terrified parents, I rolled my eyes at the proposal and never gave it or the few other offers that came my way a second thought.
Hindi movies were simply ludicrous: loud and unrealistic, filled with regressive characters spontaneously breaking into song and choreographed dance at the drop of a dupatta.
Download


Copyright Disclaimer:
This site does not store any files on its server. We only index and link to content provided by other sites. Please contact the content providers to delete copyright contents if any and email us, we'll remove relevant links or contents immediately.