Fantastic Beasts: The Crimes of Grindelwald by J. K. Rowling
Author:J. K. Rowling [Rowling, J.K.] , Date: November 16, 2018 ,Views: 2200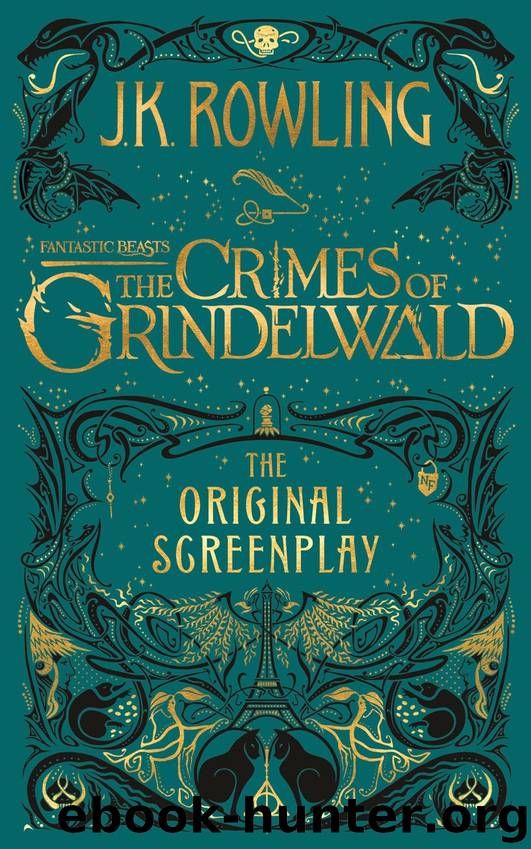 Author:J. K. Rowling [Rowling, J.K.]
Language: eng
Format: epub, mobi
ISBN: 9781781102343
Publisher: Pottermore Publishing



SCENE 66
INT. EMPTY HOGWARTS CLASSROOM—DAY
LETA walks slowly into the classroom, then turns to look back into the corridor and—
DISSOLVE TO:
SCENE 67
INT. EMPTY HOGWARTS CLASSROOM—SEVENTEEN YEARS PREVIOUSLY—MORNING
13-YEAR-OLD LETA stands hiding inside the empty classroom while students in cloaks trundle by, pushing trunks and carrying owls. It is the last day of the winter term and nearly everyone is going home.
ANGLE ON TWO 13-YEAR-OLD GRYFFINDOR GIRLS pushing trunks.
GRYFFINDOR GIRL 1
You know she stays here every vacation. Her family don't actually want her home.
GRYFFINDOR GIRL 2
I don't blame them, she's so annoying. Even the name Lestrange makes me feel sick—
LETA flings herself into their path, pointing her wand.
13-YEAR-OLD LETA
Oscausi!
GRYFFINDOR GIRL 2'S mouth is sealed shut as though she never had one. Triumphant, LETA flees the scene, pushing past shocked students.
GRYFFINDOR GIRL 1
(screams)
Professor McGonagall! LESTRANGE HAS DONE IT AGAIN!
MCGONAGALL (O.S.)
Lestrange, stop running! LESTRANGE! Disobedient children. Stop! Shame on the House of Slytherin. One hundred points! Two hundred! Get back here, right now! Stop! Stop it! Stop it! You stop it! Get back here!
GRYFFINDOR GIRL 1
Miss, it was Lestrange. She's horrible—
McGONAGALL silences the girl.
ANGLE ON LETA, sprinting around a corner.
She wrenches open a side door and plunges inside.
Download


Copyright Disclaimer:
This site does not store any files on its server. We only index and link to content provided by other sites. Please contact the content providers to delete copyright contents if any and email us, we'll remove relevant links or contents immediately.