A Thousand Nights by E. K. Johnston
Author:E. K. Johnston [Johnston, E. K.] , Date: November 15, 2017 ,Views: 6287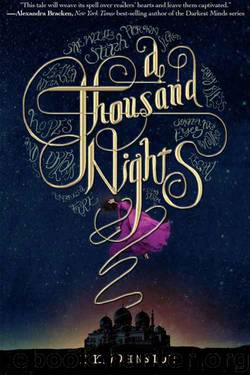 Author:E. K. Johnston [Johnston, E. K.]
Language: eng
Format: epub, azw3
Publisher: Disney Book Group
Published: 2015-10-05T19:00:00+00:00



LO-MELKHIIN DID NOT DIE that night, nor the next. It took three full nights of bleeding before the poison was leeched from him and he woke, and knew the sky from the sand. I found a pot of desert flowers in my rooms that day, and knew they were a sign of gratitude from Lo-Melkhiin's mother. I put them in the sun so that they wilted and died, rootless as they were. I wanted no memory of what I had done.
The girls who came to do my hair and bathe me bowed low, and would not meet my eyes. They did not make idle chatter as they had before, and they did not speak directly to me either, save to ask if a pin vexed me or if the design was good. They were afraid, or perhaps they thought I was a fool. I had saved Lo-Melkhiin, after all, for reasons of men, and the women who lived in the qasr would suffer for it. I would pay with my life, as like as anything. I was short-tempered, and did not hold that back from my answers to them. By the time I was dressed, we were all upset. At least they could flee.
I went into the water garden, thinking that the fountain would soothe me as it had the day before, and found once again that I was not alone there. This time, it was Sokath, His Eyes Uncovered who waited for me, and he had breakfast for two spread on the blanket where he sat in the shade. I sat across from him, and did not speak.
"In times gone past," said Sokath, His Eyes Uncovered, "a person who saved a king or a queen would be richly rewarded. Nothing their heart desired would be too large. Yet here you sit, lady-bless, with a hard heart in your chest."
"Should I rejoice?" I asked him. "Am I not a silly sheep who cannot think for herself, and goes willingly to the pen rather than face the possibility of jackals in the night?"
"I think rather that you are a goat," said Sokath, His Eyes Uncovered. "You go to the pen because it is your home, but you could think your way out of it, should you need to."
I made an impolite sound that would have galled my sister's mother to hear.
"Tell me what you saw when you healed him," said Sokath, His Eyes Uncovered. "I shall be the sun, and you the ball, and together we will judge the shadows."
I told him about the heaviness in Lo-Melkhiin's blood and the dark spot in his brain that had seemed so unlike the rest of it.
"Unlike in what manner?" he asked.
I considered the words I might use to describe it to him. The threads were there, I found, in the rhythm of the fountain's falling water.
"When we slaughter animals for our feast days, we set aside the head for our offerings," I said to him. "My mother and my sister's mother wait until the skulls have dried, and then they crack them open.
Download


Copyright Disclaimer:
This site does not store any files on its server. We only index and link to content provided by other sites. Please contact the content providers to delete copyright contents if any and email us, we'll remove relevant links or contents immediately.