La Belle Sauvage by Philip Pullman
Author:Philip Pullman [Pullman, Philip] , Date: October 20, 2017 ,Views: 8906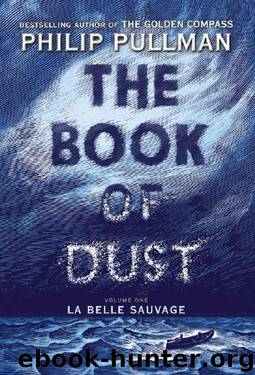 Author:Philip Pullman [Pullman, Philip]
Language: eng
Format: epub, mobi
Tags: Fantasy, Young Adult
ISBN: 9780375815300
Google: Fn4wMQAACAAJ
Amazon: 0375815309
Goodreads: 34128219
Publisher: Knopf Books for Young Readers
Published: 2017-10-18T04:00:00+00:00



When Malcolm went to the priory that afternoon to see if Mr. Taphouse was better, he found the workshop dark and locked up; but in the kitchen he had a surprise, because there was Alice, kneading some dough.
"Oh," he said, because he could think of nothing else.
Alice looked disdainful, as usual, and said nothing.
"Hello, Malcolm," said Sister Fenella. The old lady was sitting by the stove near Lyra's crib, and she didn't look at all well.
"Alice is helping us for a while," the nun went on, her voice light and breathless.
"Oh, right," he said. "How's Lyra?"
"Fast asleep. Come and see."
Lyra's face was pressed into the fur of her kitten dæmon, but not for long, because as soon as Asta flew down to the crib, Pantalaimon woke up and spat fiercely. That woke Lyra, of course, and she started bellowing with all the breath in her little lungs.
"It's all right, Lyra," Malcolm said, "you know who we are. What a racket! I should think they can hear you all the way across the river and into the Trout."
Asta became a young cat and jumped into the crib, taking care to avoid touching Lyra, and picked up Pan the kitten dæmon and gave him a little shake. He was so astonished that Lyra stopped crying at once to see what was happening, and that made Malcolm laugh, and that made Lyra laugh too, her eyes brilliant with tears.
Malcolm was delighted to have this effect. Alice had come over to look.
"Little flirt," said Alice, and went back to her bread.
"Oh, no," said Sister Fenella, "she knows Malcolm, doesn't she, my sweet? We know Malcolm and Asta, don't we?"
"Can I hold her?" said Malcolm.
"It's nearly time for her feed—yes, go on. Can you take her out?"
"Easy," said Malcolm, and while Asta playfully batted the kitten over and over, he reached in and picked the baby up. They were used to it now, and didn't cry with alarm as they'd done at first. Malcolm pulled up a stool with his foot and sat Lyra on his knee next to Sister Fenella. The baby looked around at everything, and then her hand found her mouth and in went a thumb.
"She's so hungry she's eating herself," Malcolm said.
Sister Fenella was stirring a saucepan of milk on the range and testing the heat with her little finger.
"There, that's just right," she said. "Malcolm, dear, can you fill the bottle for me?"
Malcolm passed Lyra to her and poured the milk very carefully into the clean bottle. He wanted to tell Alice what had happened earlier that afternoon with Mrs. Coulter, but not while Sister Fenella was there; and in any case the girl was so haughty and cold he didn't find it easy to say anything to her at all.
When the bottle was ready, Sister Fenella took Lyra in the crook of her arm and settled back to feed her. Malcolm was troubled; the old lady was as sweet and kindly as she always was, but her face was gray and her eyes were red-rimmed and tired.
Download


Copyright Disclaimer:
This site does not store any files on its server. We only index and link to content provided by other sites. Please contact the content providers to delete copyright contents if any and email us, we'll remove relevant links or contents immediately.