Simon vs. the Homo Sapiens Agenda by Becky Albertalli
Author:Becky Albertalli , Date: April 10, 2015 ,Views: 9276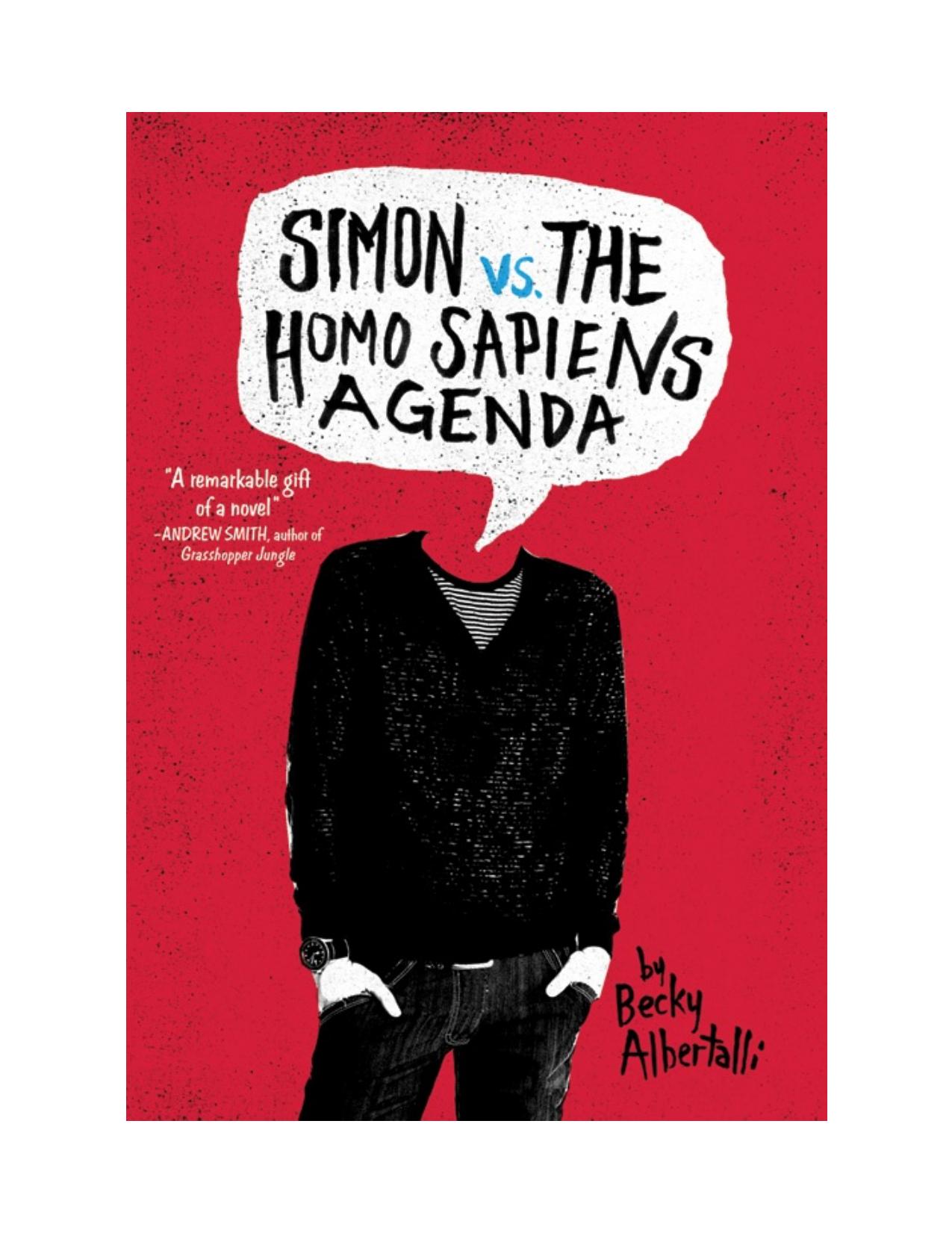 Author:Becky Albertalli
Language: eng
Format: epub, mobi
Publisher: HarperCollins
Published: 2015-01-29T16:00:00+00:00



Spier family tradition dictates that Christmas Eve dinner is French toast, per my grandma's technique: thick slices of challah aged one day for maximum egg absorption, cooked in tons of butter in pans partially covered by pot lids. When my grandma makes them, she constantly moves the lids around and flips the bread over and fusses with all of it (she's kind of a hardcore grandma). It never comes out quite as custardy when my dad makes it, but it's pretty freaking good anyway.
We eat it at the actual dining table on our parents' wedding china, and my mom brings out the manger scene centerpiece that rotates like a fan when you light a candle beneath it. It's really hypnotic. Alice dims the lights, and my mom puts out cloth napkins, and everything feels really fancy.
But it's weird. It doesn't really feel like Christmas Eve. There's this spark missing, and I don't know what it is.
I've felt like this all week, and I don't understand it. I don't know why everything feels so different this year. Maybe it's because Alice has been gone. Or maybe it's because I'm spending every minute pining for some boy who doesn't want to meet me in person. Or who's "not ready" to meet me in person. But he's also a boy who signs his emails with "love." I don't know. I don't know.
In this moment, all I want is for things to feel like Christmas again. I want it to feel how it used to feel.
After dinner, my parents put on Love Actually and settle in on the love seat with Bieber wedged between them. Alice disappears again to talk on the phone. Nora and I sit for a while on our opposite ends of the couch, and I stare into the lights of the tree. If I squint my eyes, everything looks sort of bright and hazy, and I can almost catch the feeling I remember. But it's pointless. So I go into my own room and fling myself back on the bed and listen to my music on shuffle.
Three songs later, there's a knock on my door.
"Simon?" It's Nora.
"What?" Ugh.
"I'm coming in."
I prop myself halfway up against the pillows and give her a mild stink-eye. But she walks in anyway, and pushes my backpack off my desk chair. And then she sits, with her legs tucked up and her arms around her knees. "Hey," she says.
"What do you want?" I say.
She looks at me through her glasses—she's already taken her contact lenses out. Her hair is pulled back messily, and she's changed into a Wesleyan T-shirt, and it's really remarkable how much she's starting to look like Alice.
"I need to show you something," she says. She swivels the chair back toward my desk and starts opening my laptop.
"Are you kidding me?" I jump up. Seriously. She seriously thinks I'm about to give her open access to my laptop.
"Fine. Whatever. You do it." She unplugs it and rolls the chair closer to the bed, handing the laptop over to me.
Download


Copyright Disclaimer:
This site does not store any files on its server. We only index and link to content provided by other sites. Please contact the content providers to delete copyright contents if any and email us, we'll remove relevant links or contents immediately.