Evelina by Fanny Burney
Author:Fanny Burney , Date: August 26, 2018 ,Views: 25567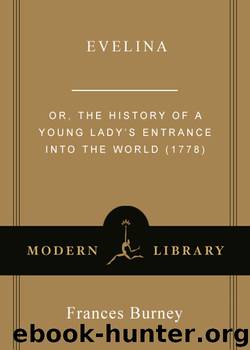 Author:Fanny Burney
Language: eng
Format: epub
Tags: Fiction
ISBN: 9781588362353
Publisher: Random House Publishing Group
Published: 2002-03-04T16:00:00+00:00



LETTER XVII.
Evelina in continuation.
June 21.
The last three evenings have passed tolerably quiet, for the Vauxhall adventures had given Madame Duval a surfeit of public places: home, however, soon growing tiresome, she determined to night, she said, to relieve her ennui, by some amusement; and it was therefore settled that we should call upon the Branghtons, at their house, and thence proceed to Marybone Gardens.
But, before we reached Snow-Hill, we were caught in a shower of rain: we hurried into the shop, where the first object I saw was Mr. Macartney, with a book in his hand, seated in the same corner where I saw him last; but his looks were still more wretched than before, his face yet thinner, and his eyes sunk almost hollow into his head. He lifted them up as we entered, and I even thought that they emitted a gleam of joy: involuntarily, I made to him my first courtesie; he rose and bowed, with a precipitation that manifested surprise and confusion.
In a few minutes, we were joined by all the family, except Mr. Smith, who fortunately was engaged.
Had all the future prosperity of our lives depended upon the good or bad weather of this evening, it could not have been treated as a subject of greater importance. "Sure never any thing was so unlucky!—" "Lord how provoking!—" "It might rain for ever, if it would hold up now!—" These, and such expressions, with many anxious observations upon the kennels,182 filled up all the conversation till the shower was over.
And then a very warm debate arose, whether we should pursue our plan, or defer it to some finer evening; Miss Branghtons were for the former; their father was sure it would rain again; Madame Duval, though she detested returning home, yet dreaded the dampness of the gardens.
M. Du Bois then proposed going to the top of the house, to examine whether the clouds looked threatening or peaceable; Miss Branghton, starting at this proposal, said they might go to Mr. Macartney's room, if they would, but not to her's.
This was enough for the brother; who, with a loud laugh, declared he would have some fun, and immediately led the way, calling to us all to follow. His sisters both ran after him, but no one else moved.
In a few minutes, young Branghton, coming half way down stairs, called out, "Lord, why don't you all come? why here's Poll's things all about the room!"
Mr. Branghton then went, and Madame Duval, who cannot bear to be excluded from whatever is going forward, was handed up stairs by M. Du Bois.
I hesitated a few moments, whether or not to join them; but, soon perceiving that Mr. Macartney had dropped his book, and that I engrossed his whole attention, I prepared, from mere embarrassment, to follow them.
As I went, I heard him move from his chair, and walk slowly after me. Believing that he wished to speak to me, and earnestly desiring myself to know if, by your means, I could possibly be of any service to him, I first slackened my pace, and then turned back.
Download


Copyright Disclaimer:
This site does not store any files on its server. We only index and link to content provided by other sites. Please contact the content providers to delete copyright contents if any and email us, we'll remove relevant links or contents immediately.