How to Rescue a Rake by Jayne Fresina
Author:Jayne Fresina [Fresina, Jayne] , Date: June 9, 2016 ,Views: 3247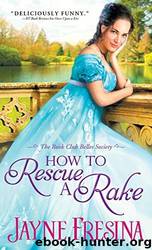 Author:Jayne Fresina [Fresina, Jayne]
Language: eng
Format: epub, mobi
Publisher: Sourcebooks Casablanca
Published: 2016-01-05T05:00:00+00:00



Fifteen
They were about to go in to dinner when more guests arrived and were shown in by the footman.
The group of three entered the drawing room—first a small elderly lady in mourning ribbons, and a younger woman displaying abundant cleavage, too much jewelry, and hair a suspiciously bright shade of copper.
But behind them, tall, lean, and magnificent in a dark green evening coat with an ivory silk cravat, was none other than…a man the very image of Nathaniel Sherringham.
How could it be?
Diana felt stuck to her chair.
His gaze swiftly traversed the room and stumbled to a halt when it found her.
There was a moment of confusion, which assured Diana that he had not come there on purpose to follow her, and then he blinked and looked away.
What was he doing at Wollaford? Oh Lord. Had ever a woman been so abused by fate?
Diana wound her fingers together in her lap and finally remembered to breathe. She was a new woman today, a brave woman. Not sitting in a corner, hiding in shadow.
The lady in mourning—Mrs. Ashby—explained in a faint, sad voice, "This gentleman was good enough to escort my niece to Bath. I persuaded the two of them to join me this evening. I do hope you don't mind." She directed this last sentence at Mrs. Plumtre, who hastened to assure her that it was no trouble at all to accommodate two more at her table.
"We always have room at Wollaford Park, do we not, Jonty?"
"Of course, Mama. Plenty of room at the trough, what ho?"
Diana saw her cousin Elizabeth wincing as if someone had stood on her foot and belched in her face.
While Nathaniel bowed to each lady in the room, Diana's pulse skipped and danced. She almost didn't dare look up at him, but she had to. How could she not? How could her eyes ignore his male beauty?
Each time she saw him, it was as if his looks had improved yet again—or perhaps it was simply because she dared look longer. His manners certainly had changed for the better since their first meeting ten years ago. He did not fidget restlessly the way he once had when he entered a room. He now exuded a quiet confidence that commanded attention.
"This is my wife's cousin," Sir Jonty boomed pleasantly. "Miss Diana Makepiece came to us all the way from the wilds of Buckinghamshire."
Her eyes met Nathaniel's. A slight smile turned up one end of his lips. "Miss Makepiece, I am delighted to make your acquaintance."
So he meant to pretend they'd never met.
She was relieved. They could act as if they were strangers. It would be a clean page for both of them.
Her cousin Elizabeth would not know of their connection. Although she'd met Rebecca Sherringham during brief visits to Hawcombe Prior, she would be unlikely to link the captain to his sister. Elizabeth was not the sort to remember names unless they were attached to nobility or great wealth, and she had considered Rebecca too uncouth and far below her notice.
Download


Copyright Disclaimer:
This site does not store any files on its server. We only index and link to content provided by other sites. Please contact the content providers to delete copyright contents if any and email us, we'll remove relevant links or contents immediately.