London's Perfect Scoundrel by Suzanne Enoch
Author:Suzanne Enoch [Suzanne Enoch] , Date: March 27, 2014 ,Views: 4561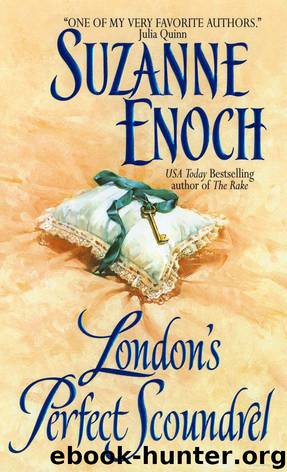 Author:Suzanne Enoch [Suzanne Enoch]
Language: eng
Format: epub, mobi
ISBN: 9780061748608
Publisher: HarperCollins
Published: 2006-04-06T14:00:00+00:00



Chapter 15
For he through Sin's long labyrinth had run,
Nor made atonement when he did amiss,
Had sigh'd to many though he lov'd but one,
And that lov'd one, alas! could ne'er be his.
—Lord Byron, Childe Harold's Pilgrimage, Canto I
Jansen pulled open the front door as Saint reached the top step at the entry of Halboro House.
"My lord," the butler said, bowing, "we'd begun to wonder where—"
"I want a bottle of whiskey, half a chicken, and a hot bath, all in my private rooms. Now."
"Yes, my lord."
He knew he looked the worse for wear, arriving unshaven, dirty, shirt untucked, and with his jacket, cravat, and waistcoat missing. At the moment he didn't give a damn what he looked like. He'd spent seven days shackled to a wall in a cellar and no one had noticed. No one but Evelyn Marie Ruddick. And she'd made the mistake of thinking she could change him—improve him, even. Ha. Well, he'd shown her.
His bedchamber upstairs looked as it always did, dark mahogany furniture, dark wall hangings, and dark, heavy curtains closed against the daylight. With a scowl, he limped to the nearest window and shoved the dark blue material aside, then flipped open the latch and pushed open the window. He repeated the action with all five windows, not pausing as footmen began struggling in with heavy buckets of steaming water. After a week in the dark, he certainly had a new appreciation for sunlight.
His valet hurried into the room, only to stop dead in the doorway. "My lord, your—" Pemberly gestured at Saint's attire. "The—"
"Yes, I know," Saint grunted. "Get out."
"But—"
"Out!"
"Yes, my lord."
If there was one thing he didn't need, it was his valet spreading rumors about his battered appearance, and especially about his ankle and the scratch marks Evelyn had left across his back. Once his luncheon and the whiskey arrived, he slammed his door closed and dropped into his dressing chair. The shirt was easy to remove, but his boots were something else entirely. With a grunt he pulled off the right one, tossing it to the floor, then went to work on the left.
The polish and smooth black leather were worn away, and after having the boot off and putting it on again, the swelling in his ankle had worsened. After several attempts and some cursing, he hobbled to his writing desk, pulled out the knife he used for sharpening quills, and sliced the boot open.
His ankle was black and blue, the skin raw and swollen. It hadn't seemed as painful an hour ago, but he'd been preoccupied then. Shedding his trousers, he stepped into the tub, hissing at the sting, and slowly sank into the hot water.
Reaching over the side of the tub, he dragged up a chair and lifted his plate of food onto it so he could tear into a drumstick. He eyed the whiskey, but now that he was in the hot bath, the need for it didn't seem as pressing.
Evelyn Marie Ruddick. Given his lifestyle, he frequently found himself in possession of information that could ruin marriages, fortunes, or his fellows.
Download


Copyright Disclaimer:
This site does not store any files on its server. We only index and link to content provided by other sites. Please contact the content providers to delete copyright contents if any and email us, we'll remove relevant links or contents immediately.