Stormfire by Christine Monson
Author:Christine Monson , Date: August 22, 2017 ,Views: 4040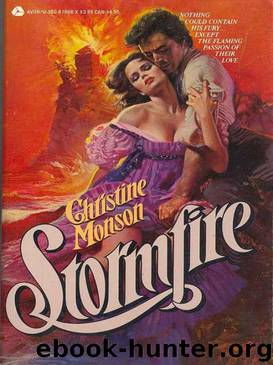 Author:Christine Monson
Language: eng
Format: mobi, epub
Tags: Regency, Romance: Regency, Fiction, Romance, Fiction - Romance, General, Romance - General
ISBN: 9780380876686
Publisher: Avon
Published: 1984-06-01T04:00:00+00:00



CHAPTER 14
Duels
The provocatively cut gown left Catherine's breasts and shoulders alluringly bare. Her sapphire silk shimmered in the light of massive candelabras that lined the dining table. Sean had chosen to dress her with scandalous, if excellent, taste, and with reason. She felt like another woman, one who had never endured hard work. Exactly what I might have become, she thought behind a smile that expressed nothing but attention to the subtly suggestive repartee of her dinner partner, General Fournel.
"Your eyes are fascinating, mademoiselle; at once inviting a man to the most wicked imaginings, yet distant as the stars."
Amauri lazed in the chair opposite. "Ah, one must beware of cold goddesses, mon General. Wasn't it the huntress Diana who had her lover turned into a stag and torn to bits by her hounds for venturing too close?"
"Actaeon was not her lover, Colonel," drawled Catherine. "He was merely impertinent."
Courbier, the puppyish young lieutenant, leaned forward laughing. "Surely, mademoiselle, a woman so lovely as you could never be cruel."
"If men transform women into goddesses, they must expect less than docile behavior."
Liam, on her left, sardonically raised his glass. "Heed the lady well, gentlemen, lest you become dog food ere morn."
The lieutenant looked at him good-naturedly. "Have you had sad experience with goddesses, milord?"
"There are no goddesses, Lieutenant. They're an artistic fiction. As the lady suggests, all lies."
Liam was more inebriated than Catherine had ever seen him. Her eyes flicked toward Sean at the far end of the table. He seemed to be listening to a guest with polite boredom, but when his eyes met hers, she knew he had missed little of the conversation between Liam and the lieutenant.
"But, milord," another officer was protesting, "men must be permitted a few pleasant illusions."
"Especially if they insist on dying for them; otherwise, who would fight to protect another man's potatoes," inserted Amauri, slyly eying Liam. "And women, too, must have their illusions, love being their particular favorite. What do you expect of love, Mademoiselle Flynn?"
Catherine lifted her glass. "C'est merveil leux, when one can afford it." Secretly, she was furious with Amauri for taunting Liam through, her.
"Quel cynisme. C'est dommage," Amauri sighed. "Still, surely you believe in the immortality of glory?"
"Immortality is a masculine word. To a woman, only life matters."
"Then you cannot be in favor of war, mademoiselle?"
She gave him a slow smile. "I'm relieved I'm not obliged to be a soldier."
The lieutenant laughed. "Bravo, Mademoiselle Flynn! To waste such beauty as cannon fodder would be idiocy!"
Amauri glanced at Liam, then- looked at her. "But surely courage should be coupled with beauty?"
Catherine laughed. "If you doubt my nerve, Colonel, why not call me out?"
"You, mademoiselle? Have you no gallant protector?"
"Will I do?" interrupted Liam nastily.
Catherine lightly tapped his sleeve with her fan. "No, milord. You shall not cheat me. I am the one whose ferocity is questioned."
Amauri gave a Gallic shrug and grinned. "My dear young lady, I cannot fight a woman."
"Why not? Every tradition needs a little airing, n'est-ce pas? Come, it will be amusing.
Download


Copyright Disclaimer:
This site does not store any files on its server. We only index and link to content provided by other sites. Please contact the content providers to delete copyright contents if any and email us, we'll remove relevant links or contents immediately.