A Matter of Temptation by Lorraine Heath
Author:Lorraine Heath , Date: October 14, 2017 ,Views: 3213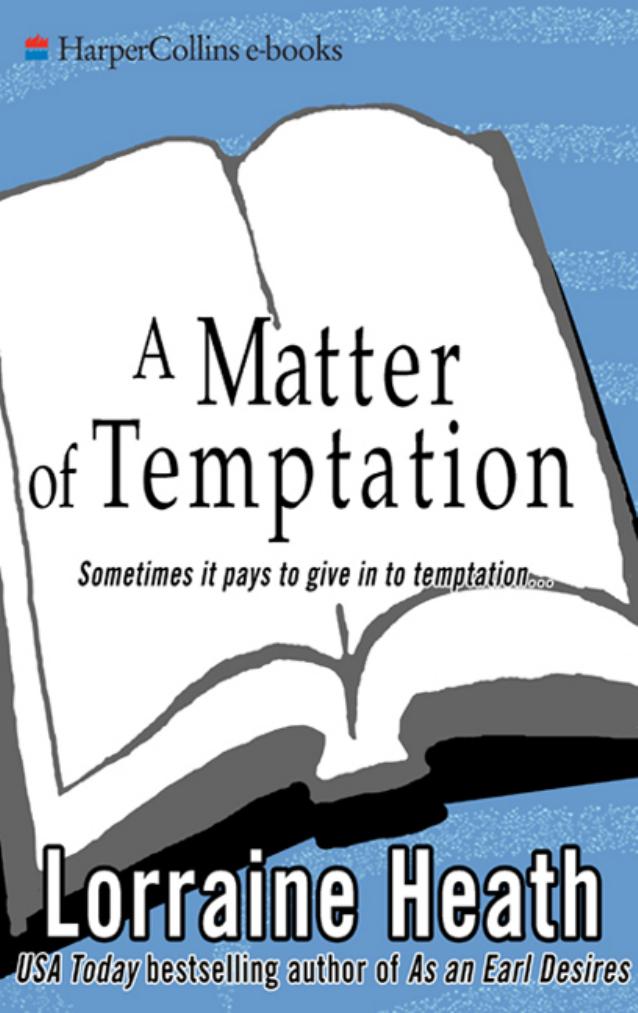 Author:Lorraine Heath
Language: eng
Format: mobi, epub
ISBN: 9780061747472
Publisher: HarperCollins
Published: 2006-11-25T23:00:00+00:00



Robert had only trekked a few feet when the forest thickened, and he decided he'd best stop to wait for his wife. She moved carefully, cautiously, elegantly. He didn't know if he'd ever seen any one as graceful as she was as she picked her way over the forest floor.
As she neared him, she lifted her gaze, smiled, and with her attention no longer on the ground, she tripped, squeaked—
He quickly reached out, caught her hand, her waist, and it was as though the world receded and time stood still. Although they both wore leather riding gloves, in the coolness of the forest he could feel the heat of her skin mingling with his. He wanted to draw her nearer, press the length of her body against his, until her warmth completely saturated him. At the same time, he wanted to hold her away so he could gaze into her wondrous brown eyes. He'd never seen eyes so large, so lovely, and when she smiled or laughed, they danced like a thousand stars in the night sky.
He could clearly see why his brother had chosen her.
His brother.
And she had chosen John.
The reality of that choice hit him hard in the gut.
"Steady now?" he asked, hoping she didn't detect that he sounded as though he was strangling.
She nodded.
"Good." He let go of her and stepped back. "We should go a bit more slowly, to prevent any mishaps."
"Did you play in this forest when you were a boy?"
He began the journey again, going at a leisurely rate until she fell into step beside him, then increasing his pace only a bit. Her strides weren't as long as his, so he adjusted his to accommodate hers.
Download


Copyright Disclaimer:
This site does not store any files on its server. We only index and link to content provided by other sites. Please contact the content providers to delete copyright contents if any and email us, we'll remove relevant links or contents immediately.